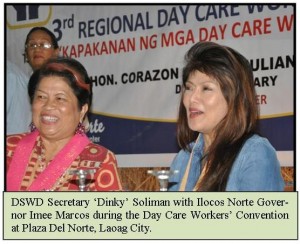 No Day Care Worker will be displaced. With the coming of the Early Years Act, the fear of being removed from the service will no longer be an issue among the Day Care Workers.
This was pronounced by DSWD Secretary Corazon 'Dinky' Soliman in the presence of Ilocos Norte Governor Imee R. Marcos who also graced the Regional Convention of the Federation of Day Care Workers of Region 1 at Plaza Del Norte, Laoag City, recently.
The Day Care Workers were lauded by Governor 'Imee' R. Marcos on their pivotal role in sharing their golden wisdom in the start of a lifetime learning among the Day Care Children.
Also, the throng of 900 Day Care Workers witnessed the warm support of Gov. Imee Marcos who verbalized Day Care Workers' concerns on honoraria, out- of- the- pocket issue and lack of convenient Day Care Centers.
With these, Gov. Marcos encouraged the Local Chief Executives for their full attention on the welfare of the Day Care Workers with the help of DSWD Secretary Soliman and their local counterparts.
As a response, Secretary Soliman mentioned that the Magna Carta for Day Care Workers is on its way again on the plenary. Accordingly, the passage of the Bill will further push for the institutionalization of the rights and welfare of the Day Care Workers.
Also, Secretary Soliman mentioned continuity of the Supplementary Feeding to address the nutritional status of undernourisded Day Care Children. By assuring their health, intellectual and psychomotor skills development are also given prime.
To note there are 97,026 expected Day Care Children to benefit from the Supplementary Feeding by School Year 2014-2015 .
With the pledges and support from two strong women-leaders in social protection programs, these concerns will be addressed together with the strong advocacy of the Day Care Workers Federation in Region 1. (by: Iryn D. Cubangbang, DSWD Information Officer II)