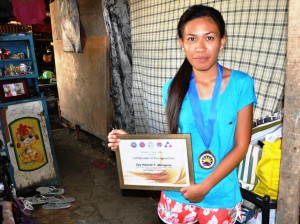 "Nu saan nga gapu daytoy nga programa (SGPPA), saanak siguro nga nakalpas", (If not for the scholarship, I may not be able to graduate.)said Gay Myrell Abrogena of Pinili, Ilocos Norte, the country's first Student Grants in Aide Program for Poverty Alleviation (SGPPA) graduate.
Myrell was one of the first 7 SGPPA scholar-graduates in the region. The youngest among five siblings, Myrell's journey to her diploma was not an easy one.
Becoming a teacher is her childhood dream, the main reason she took up Elementary Education at Mariano Marcos State University (MMSU). She was an incoming third year student when her parents informed her to stop for the meantime since the father's income as a casual employee at the Municipal Hall cannot fully support her needs. It was timely that the SGPPA was introduced.
Myrell's sister-in-law encouraged her to try for the scholarship. At first, she was hesitant to take the opportunity due to the pressure of maintaining good grades. However, she decided to go hoping that this might bring good news.
SGPPA is a joint program of DSWD, CHEd, PASUC and DOLE, SGPPA which aims to contribute in effectively addressing poverty by increasing the number of graduates in higher education among poor households. Beneficiaries of this program are poor but deserving students from Pantawid Pamilya households who are qualified to enroll in selected SUCs to take up priority program courses.
CHED provides priority courses for SGPPA scholars for the next five years. These are Information Technology; Agriculture and related fields; Teacher Education; Science and Math; Engineering; Health Sciences; Arts and Humanities; Social and Behavioral Sciences; Business Administration and related courses; Architecture; Maritime and; Communication.
Being a program scholar, Myrell was supported with P10,000 for tuition and P2,500 for textbooks / other learning materials per semester including P3,500 for her monthly allowance. A total of P30,000 per semester.
Against the Challenges
Living in the fields, the area is being flooded during rainy season. Myrell have a hard time going to and from the school and forced to take a longer, safer route. Also, in times that the stipend is yet to be released, the family is forced to borrow from other people. According to Myrell's mother, it was patience and hardwork that led their daughter to achieve higher grades despite various difficulties.
Privileged scholar
As narrated by Myrell, some of her classmates envied the scholarship especially the allowance that is being given monthly. Accordingly, some of her co-scholars have stopped schooling either due to financial constraints or pregnancy. To avoid similar events, Myrell encouraged co-scholars to give importance to the scholarship since it was an opportunity that only few are given. Myrell said, "Agan anus da ta madanun tu met la ti panaggradwar da. Mayat ti rikna ti aggradwar " (They must extend their patience. Time will come for their graduation. It feels great to graduate.
Proud scholar, Myrell was awarded as one of the seven outstanding exemplary SGPPA scholars in the country during CHED's anniversary.
Future Plans
As a model to other scholars, Myrell admitted to be pressured with others' expectations. Currently, she is reviewing for the Board Examinations and is scheduled to take soon. Once given the chance to pass, Myrell plans to work in Pinili and help other students fulfill their dreams. In return to the government, Myrell promised to perform her craft well.
Being the first to graduate in the family, Myrell desires to provide and start to give back to her family. Grateful to the program, Myrell said, "Ammuk nga adu pay ti matulungan na daytoy nga programa". (I know that there will still be a lot of students the program will be able to help) (by: ALLAN O. LULU, Information Officer II/ Pantawid Pamilya)