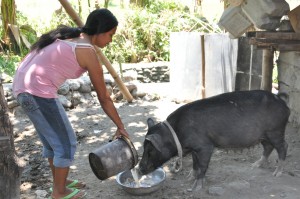 A former "kubrador" or collector of jueteng bets is now a more responsible mother and community leader.
"Kung hindi dumating ang Pantawid Pamilya, hindi siguro ako natigil maging kubrador." (If not with the coming of Pantawid Pamilya, I might not have stopped being a "kubrador") said Margielyn Genese, a Parent Leader from San Manuel, Pangasinan.
A mother of four, Margielyn and her farmer husband cannot fully provide the necessities of their children, particularly school needs.
The children were habitually absent in school due to financial constraints. They cannot even provide for the two-peso fare for each children. The only amount they could afford to pay for a ride prior to Pantawid Pamilya's coming.
This encouraged Margielyn to find additional income. She ended up becoming a jueteng "kubrador". Being one, Margielyn regularly takes home 10% of the total collection bets for the day and even given "balato" whenever a bettor wins.
However, with the coming of Pantawid Pamilya, Margielyn was forced to stop her "kubrador" work since the program prohibits involvement to any gambling related activities. On a brighter side, the children's school needs were provided through the cash grants being received by the family. They once again had the opportunity to attend school.
A Trustworthy Parent Leader
The coming of the program prompted the need for Parent Leaders (PL). Margielyn was chosen to be one in San Manuel, Pangasinan but only few believed in her ability to lead. Likewise, she doubted herself of what she can do. With these, her husband even encouraged her to quit being a PL.
But Margielyn treated the situation as a challenge saying, "Ipinakita ko sa kanila na kaya ko" (I showed them that I can). Though some of her co-beneficiaries always complain and forget to respect her at times, Margielyn said that explaining and extending her patience are the key to overcome challenging situations.
Husband's support
A number of tasks are being performed by Parent Leaders. To manage all of these, Margielyn is being helped by her husband. Whenever she needs to do Pantawid Pamilya related activities, household chores are taken over by her husband. The husband even helps in informing their co-beneficiaries with the necessary information to be disseminated. "Tinutulungan niya akong magpunta sa mga bahay bahay." (He helps in going from one house to another.)
Additional income
No longer a "kubrador", Margielyn works as laundry woman earning P120 per customer and assisting in the barbecue vending of her in-laws giving her P150/day. She also accepted to raise hogs of others. Half of the off springs will be given to her as income.
Margielyn is working hard to let her children finish school and reach their respective dreams. She is very grateful to the program for giving her children a chance to go to school. With their situation, she is inspired to do her best to get out of their current poor situation to an improved one. (by: ALLAN O. LULU, Information Officer II/ Pantawid Pamilya)