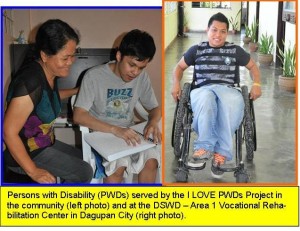 Persons with disability (PWDs) who never had formal schooling can now earn their diploma and training certificates through the converged services of DSWD and DepED-Alternative Learning System (ALS) called 'I LOVE PWDs Project'.
'I LOVE PWDs' stand for Interactive Learning Opportunities Via Education for Persons With Disability.
With DepED-ALS mobile teacher who have reached clients at the DSWD – Area 1 Vocational Rehabilitation Center (AVRC-1), more PWDs pass ALS examinations such as the outstanding trainee Bryan C. Jacla (orthopedically-handicapped), who passed High School equivalency diploma.
With this, he is now more confident to read, write and speak well, which increased his confidence since he only reached first grade in elementary level.
'I LOVE PWDs Project' complements AVRC, with DepED –ALS teachers in responding to the needs of the PWDs in the communities, Training Superintendent Elizabeth Manuel mentioned. With the efforts of the mobile teachers who conducts tutorial, they are now more learned upon entry at AVRC Manuel added.
Inspired by the DSWD's convergence strategy, DepED –ALS Asst. Regional Coordinator Edwin Ferrer includes 5 learning strands on ALS which enable a PWD to be more ready to higher learning or training and / or ultimately pass the ALS equivalency exam.
At present, at least 32 mobile teachers employ these learning strands to include writing/communication skills, critical thinking and problem solving, sustainable uses of resources, development of self esteem, and expanding one's world vision.
'Not Mainstreamed in School, But Learning'
Brylle Vince Gallego, a visually impaired youth is among those regularly visited by mobile teachers of the 'I LOVE PWDs Project'. With kidney malfunction and impaired vision, his ALS High School diploma equivalency is so much to thank for.
As narrated by his mother Annalie, Brylle stopped his formal school when he was a fifth grader. He became very ill and was in coma for 45 days. For Brylle, life did not stop there. The support of his family especially his mother pushed him to achieve more despite disability. ( by: Iryn D. Cubangbang, Information Officer II)