"Agyamanak ta naala ak nga scholar. Agadalak tapnu sumayaat ti biag ko ken ti pamilyak" (I am thankful to be one of the chosen scholars. I will study hard to improve mylife and my family.) said JR Tamang, a 23 -year old Student Grants in Aide Program for Poverty Alleviation (SGPPA) scholar from Cervantes, Ilocos Sur.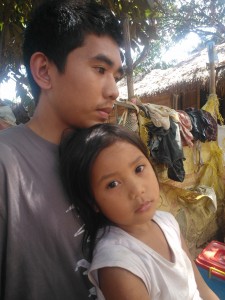 The SGPPA is a joint program of DSWD, Commission on Higher Education (CHEd), Philippine Association of State Universities and Colleges (PASUC) and Department of Labor and Employment (DOLE). A program aims to contribute in effectively addressing poverty by increasing the number of graduates in higher education among poor households. Beneficiaries of this program are poor but deserving students from Pantawid Pamilya households who are qualified to enroll in selected SUCs to take up priority program courses.
CHEd provides priority courses for SGPPA scholars for the next five years. These are Information Technology; Agriculture and related fields; Teacher Education; Science and Math; Engineering; Health Sciences; Arts and Humanities; Social and Behavioral Sciences; Business Administration and related courses; Architecture; Maritime and; Communication.
Taking up Elementary Education, JR is upcoming 3rd year college student at Don Mariano Marcos Memorial State University (DMMMSU). Being a program scholar, JR is supported with P10,000 for tuition and P2,500 for textbooks / other learning materials per semester including P3,500 for his monthly allowance. This amount is divided for boarding house, food and other school fees. A total of P60,000 is provided to JR per year as scholar.
JR tries to save some part of his allowance to support his two children left in Cervantes. To earn more, he is also working as a construction worker during his free time having P200 additional income.
Though having a hard time coping up with lessons, JR said that his inspiration to continue are his children whom he only sees monthly. Likewise, he also wants to help his parents who farm for a living.
In the upcoming school year, a total of 2,344 students in the region will be benefitting from the program. It will be called Expanded SGPPA where student beneficiaries were validated in October and November 2013.
After finishing school, JR hopes to get a permanent job and be able to provide the needs of his family especially his children.
Experiencing the SGPPA benefits, JR hopes that such opportunities will also be given to those needy yet deserving students.(by: ALLAN O. LULU, Information Officer II/ Pantawid Pamilya)