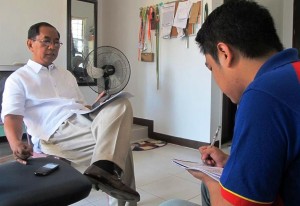 "Maayos at naiintindihan ang bawat topic na dinidiscuss at matulungin sila sa mga bata sa aming lugar", says 
Cherry Caldito, a Parent Leader from Dagupan City where Living Lights Foundation conducted Family Development Sessions (FDS) of DSWD's Pantawid Pamilyang Pilipino Program.
One of the 158 active Civil Society Organizations (CSOs) in the region, the Living Lights Foundation has been very active on its activities with the Pantawid Pamilyang Pilipino Program in Pangasinan particularly in Dagupan City for three years now.
Established in 1992, Living Lights have been conducting feeding programs, medical/dental activities in the community and children ministry and values orientation for the deaf and blind. The foundation is currently being headed by Pastor Mario Tomboc, an Ordain Minister and the Chairman of the National Auxillary Chaplaincy of the Philippines (NACPHIL) Pangasinan Chapter.
According to Pastor Mario, it is the passion and love for people that fuels their interest in volunteering to FDS activities. This is their way of involving the community in changing for the better.
Being one of the first to engage in the program, Pastor Mario opened the idea to other organizations and encouraged them to partner-volunteer with the Department. They were hesitant at first with the attached additional work and time without any financial remuneration for the conduct of FDS. However Pastor Mario successfully convinced them through his suggestion for an Adopt-a -Barangay FDS.
Strategized FDS
With the lectures on family concerns such as responsible parenthood, active citizenship and empowerment, beneficiaries gained confidence to become more sociable and appreciative of FDS activities. Pastor Mario said that this is because of the enjoyable delivery of messages of topics discussed.
Keeping the FDS to be more participative, Pastor Mario and his team strategized with dramatizations, experience sharing, group works and other activities that enhances focus, participation and interest to everyone.
With their regular schedule of four (4) sessions a day, Pastor Mario is also flexible to beneficiaries who were not able to attend the FDS. They either sent the beneficiary to another session in a nearby barangay or they meet up on a Saturday depending on the situation. They also plan to conduct personal visits to beneficiaries if time permits.
Pastor Mario shared that there are still some who are having a hard time complying with the program conditions. With this, Pastor Mario said that they are constantly reminding beneficiaries with the consequences of their actions. Also, he regularly reminds them of the intended purpose of the cash grants –for health and education.
Partnership with DSWD
With their volunteerism for Pantawid Pamilya, Pastor Mario said, "We are happy to have given the opportunity  to serve and be duly recognized by the DSWD". Also, he is very grateful that the Department is appreciative of their efforts and recognized their value not only as partner but as one of the important components of the DSWD.
Other plans
In the coming days, the foundation is planning to have recreational activities for Pantawid beneficiaries to celebrate special occasions. Activity to highlight the importance of family through group activities. Funds for the activities will be solicited from sponsors and other volunteers. Likewise, Pastor Mario plans to encourage more organizations to join in volunteering for Pantawid Pamilya.
Pastor Mario said that beneficiaries are privileged to become the government's program claimholder. They were given the chance to be helped and provide the best for their children.
(by: ALLAN O. LULU, Information Officer II/ Pantawid Pamilya)