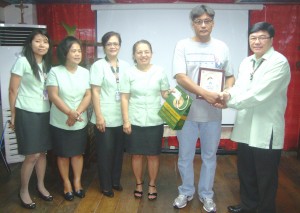 Acknowledging people who displayed good values, the Department of Social Welfare and Development Field Office 1 recognized the admirable honesty of Mr. Ariel Manalang, a tricycle driver who returned a bag containing a laptop with other important documents left by a staff in his tricycle.
From an official trip in Dagupan City, Ms. Noemi Escalona, Persons with Disabilities Focal Person, dropped by the Field Office before going to a meeting.
From the office, she rode a tricycle with her laptop and another bag. Hurried for the meeting, Ms. Escalona forgot to pick up the two bags in the vehicle.
Realizing about the lost, Ms. Escalona went to the police station and reported the incident. Likewise, checking the office's CCTV to verify that she did not lost the bag somewhere else but in the tricycle.
The next day, Ms. Escalona received a text message from a colleague saying that the bag was turned over to her. Incidentally, the driver is a family friend of the said colleague.
Accordingly, upon having the laptop, Mr. Manalang tracked the whereabouts of the owner. He even went to Ms. Escalona's house twice to personally return the bag however the latter was out at the time.  Mr. Manalang then decided to give the bag to Ms. Escalona's colleague.
In appreciation to such honesty, Mr. Manalang was given a certificate and a token in one of the Department's program ceremonies.
Grateful and overwhelmed, Mr. Manalang said that he would do the same thing to anyone if similar situation happens again.
(by: ALLAN O. LULU, Information Officer II/ Pantawid Pamilya)