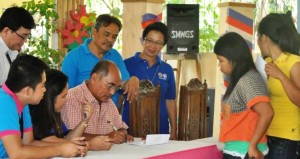 Encouraging all Pantawid Pamilyang Pilipino Program children beneficiaries to enroll in the coming school year, the Department of Social Welfare and Development Field Office 1 (DSWD-FO1) in partnership with the Department of Education (DepEd) recently launched the Early Enrolment of Pantawid Pamilya children in Sta. Maria, Ilocos Sur.
The annual activity aimed to enroll all eligible children ages 3-14 before May 24, 2014. This is to timely update their status and information to the program's Beneficiary Update System (BUS). This will later identify those who are expected to receive cash grants in the coming months.
In the region, a total of 126,810 children beneficiaries ages 3-5 and 599,548 ages 6-14 were monitored last year. All is expected to enroll this coming school year to receive primary and secondary education. Eventually they will be updated in the program's system in order to prevent the delay of their cash grants.
DSWD Field Office 1 Regional Director Marcelo Nicomedes J. Castillo emphasized the importance of education in the nation's progress. Likewise, he encouraged parent-beneficiaries to perform their share in motivating children to finish school for their own future.
The Department of Education, on the other hand, will ensure the 100% compliance of schools to the early enrolment.
Pantawid Pamilya is a rights-based approach program which provides cash grants to extremely poor households with children ages 0 – 18 years old for their health, education and nutrition needs.
(by: ALLAN O. LULU, Information Officer II/ Pantawid Pamilya)