No roaming flies, odourless and cost-saving pig prod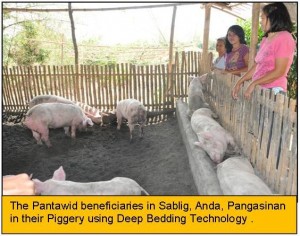 uction is now being practiced among the Pantawid Pamilya beneficiaries in Anda, Pangasinan.
With the Php 1.2 million capital assistance from DSWD's Sustainable Livelihood Program, 12 Deep Bedding Units were established.
The Deep Bedding Technology was introduced by farm technician Engr. Robert de la Cruz. Accordingly, aside from its environment-friendly benefits, this technology produces at least 400 bags of organic soil fertilizer from the enzyme- treated manure of pigs mixed with soil and carbonized rice hull.
The organic soil fertilizers are also sold at Php 80.00 per 30 kilos.
Recently, Maluwag SEAK Group sold 10 pigs worth Php 81,000.00 with 100 bags of soil fertilizer from deep bedding sold at Php 8,000.00.
From Gambling to Worthwhile Activities
Time management, cooperation, hardwork and patience are virtues strengthened among the Maluwag Group who were the first to sell their pigs after three months of rearing.
Each member shares at least 3 hours a day to cultivate the soil bed, change the water in their mini pool and in their drinking tube.
More importantly, children and husbands of members also share their time in the daily activities in the farm.
As revealed by the Maluwag Group, they are now spending more time on worthwhile activities such as pig production, no more gambling and no more gossiping among their neighbours.
Towards Sustainability
Tapping of resources coupled with technical expertise from line agencies, private groups has never been easy, but as Head Social Worker Jowey Celso confirmed the enthusiasm and hard work seen from the Pantawid Pamilya beneficiaries, more good partners will be coming in.
'Hindi life time and Pantawid, pagkatapos ng program sana makaipon kami ng konti sa ganitong pagkakakitaan. Hindi dapat sayangin ang oras. (Pantawid Pamilya is not a lifetime venture, hence, we want to save even with minimum amount through this kind of microenterprise. We should not waste time anymore). Thus, Argie Cañedo, a group member and Pantawid beneficiary said in an interview. (by: Iryn D. Cubangbang, DSWD-Information Officer II)