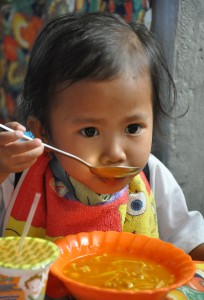 Camestizoan, Sto. Domingo, Ilocos Sur- a community packed with volunteers, responsive Barangay Council, and enthusiast parents continued the Supplementary Feeding  Program (SFP) scheme after its 120-day implementation because of seen good results among the Day Care Children.
Also, the Camestizoan Day Care Center takes pride of its Php 150,000-worth kitchen dedicated to the feeding activities of the Day Care children that was established and funded by the Barangay Council only this year. Accordingly, the children are now more convenient during feeding whether rainy or hot summer days.
 After the 120-day  Supplementary Feeding activity which ended on January 10, 2014, the feeding pursued for at least three times a week with twenty-nine parents'who  provided  counterpart for food in the amount of    Php 20.00 per month, while sponsors were tapped  to cover the food stuff expenses until the classes ends by March 2014.
 More importantly, Day Care Workers, Barangay Nutrition Scholar, Barangay Health Workers and some Pantawid Pamilya Parent Leaders were trained on Parents Effectiveness Service to serve as advocates/trainers on PES where sessions are conducted monthly.
Php 13.00 a Day Boosts A Family Budget
With all the positive comments from the implementers and parents, a  Php 13.00  budget per child a day under the SFP  goes a long way in helping the poor families cope with their tight budget.
 According to Head Social Worker Fe Valencia, most of the parents are no longer giving extra allowance to their Day Care children and at  the same time healthy food served is assured.  "Pakalag-anan dagiti parents daytoy a programa (The SFP feeding eases the burden of giving allowance to the children), Valencia further said.  This also means extra savings for the poor families  (Php 286.00 a month).
Severely Nourished Child Turns Healthy
Of the 740 Day Care Children in Sto. Domingo, Ilocos Sur, there are 78 (severely underweight and underweight) prior to the SFP implementation. After 120 days feeding, only 30 children are now underweight.
Weight increases with increased consumption on vegetable and other nutritious viand among the SFP beneficiaries. Day Care child Kate Salabsab who used to weigh 9.5 kilograms now weighs 11.3 kilograms after 6 months.
Kate's mother revealed that she used to eat just plain soup of any viand and rice which led her to be severely underweight. .
With the SFP Kate is encouraged to eat healthy food along with her classmates. Aside from this, she now practices healthy habits such as washing hands regularly before eating and saying-no to 'junk foods and soft drinks. Her mother Jonalyn is very thankful of the SFP. (by: Iryn D. Cubangbang, Regl. Information Officer)