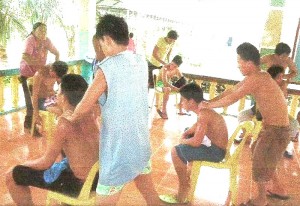 With 134 residents for the previous year, facilitating a speedy rehabilitation, to avoid congestion of CICL (Children in Conflict with the Law) in the center is among the focus of DSWD- Regional Rehabilitation Center for Youth ( RRCY).
 As reported, 57 CICL were discharged last year with the focused case management and efficient social services and support of the Local Government Units, Judicial Courts, families, and communities.
 For the previous 3 months, several trainings equipped the CICL skills that are helpful when they go back to their communities such as Hair Cutting and Swedish and Zhiatsu Massage Therapy held with 50 CICL. Also, Computer Literacy Training provided an opportunity for additional learning particularly those who want to pursue their college degree and / or acquire additional credential for future employment.
 Reward System in the Center is seen as among the effective techniques in redirecting their behaviour, said Center Head Bella B. Ferrer.
 Likewise, the case conference / rehabilitation team meeting enables a faster identification of areas needing intensive interventions.
 More external partners are sharing their resources such as the Bacnotan Senior Citizens Association led by Mr. Expedito Pilar who spearheaded a Goat Raising Project  for the CICL.
 Valued partners such as Don Eulogio De Guzman Memorial Natl. High Shool,  Phil. Natl. Police- Region 1 and  University of Cordilleras also held special gift-giving and fun game activities with the CICL   to celebrate the past yuletide season
 Further, the Commission on Human Rights held a dialogue in RRCY to promote  CICL awareness on their rights as well as responsibilities stipulated in the Convention on the Rights of A Child. Some 6 CICL were also baptized under the Roman Catholic rites prior to the holiday season. (by: Iryn D. Cubangbang, Regl. Information Officer)