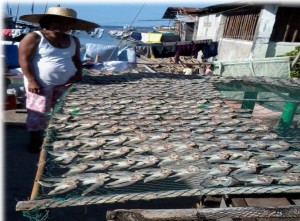 A group of 'danggit' makers named SISWAB  was hailed recently as DSWD's best peoples' organization. With a plaque and cash prize of Php 25,000.00, this Panata Ko sa Bayan Award under Gawad Paglilingkod  sa Sambayanan (GAPAS) was given during DSWD's 63rd Anniversary celebration held at Central Office, Quezon City graced by His Excellency President Benigno Aquino III.
 Dubbed as SISWAB or Santiago Island SEA-K Workers' Association of Bolinao, this organization is composed of 108 enterprising women from 20 SEA-K associations in the island barangay of Bolinao whose main livelihood is 'Danggit Making.'
'Danggit' is dried fish using the 'Barangen' variety, the raw material is very abundant in Santiago Island. The production  has become a family enterprise to many in this island.
At first, improving the 'Danggit' Processing and establishing a Trading Center was only a concept and a 'wish list' among these producers.
Now, this is slowly being realized because of DSWD's convergence strategy and Community Driven Enterprise Development (CDED) Program. Regional line agencies' concerted efforts has become tangible particularly with the DOLE, BFAR in coordination with the LGU of Bolinao, Barangay Council, among others.
With the enhanced 'Danggit Processing,' the SISWAB members buy the 'Barangen' fish from its members for processing, packaging and selling to customers and prospective market outlets at a standard cost. To accommodate bigger demands, the DOLE-assisted Project Drying Machine shall be of  great help in attaining improved quality and higher production of 'danggit.'
The project started with the capital share of SISWAB amounting to P50,000.00 (provided by the DSWD) and LGU-Bolinao counterpart worth Php110,000.00. The Drying Machine from DOLE had been approved with the total cost of  Php 424,400.00.
As mentioned by SISWAB members, they are not only considering the improved 'danggit' production as a source of income but this will also give more employment and tourism opportunities  since the help of DOT, BFAR and DTI were also tapped.  (by: Iryn D. Cubangbang, Regl. Information Officer)