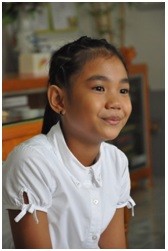 Despite life's challenges and imperfect family, Caila stays strong focusing more on studying hard and finding the love of a father through her loving uncles.
Born on March 5, 2002, Caila and her twin brother were taught to be God fearing, respectful to the elders and learn to value education. Despite the situation, Caila fully understood the family's situation.
Grade six pupil Caila is a consistent Top performing pupil in school from Grade 1 to present and a very good student leader of Bani Elementary School. Dreaming to become a Civil Engineer someday, Caila is actively involved both in academic and extra-curricular activities. A stand out name and a proud representative in various competitions such as Quiz Bees, sports (badminton, chess and volleyball) bringing recognition to her school. With these qualities, Caila topped the regional search making her the region's representative in the national Search for Exemplary Pantawid Pamilya 2013.
Helping her classmates out, Caila also facilitates "peer teaching" during her vacant period with her classmates who are hard up in class.
Together with her mother and twin brother, Caila is very active in their community's "Coastal Clean-up Drive"  being held every 14th day of the month.
At home, she also helps perform some home activities such as washing the dishes, helps in gardening; getting firewood and do the laundry of her own clothes during Saturdays.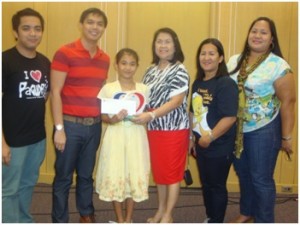 Part of a religious family, Caila joins in the family's nightly routine of praying the Holy Rosary; going to mass every Sunday and attending Bible classes during summer. With this, Caila believed that "Kung walang Diyos, wala din tayo sa mundong ito."
As a beneficiary, Caila mentioned that "umangat ng kaunti ang buhay namin" since they were able to buy their school needs through the cash grants being provided. She was also familiar with the program conditions saying "dapat sundin ang mga kondisyon ng programa.
Representing Region 1 in the national search, Caila showcased her talent in declamation with her piece "Let this Angel Live" tackling the agony of unborn children.
Ended on 6th place nationwide, Caila becomes one of the children advocates and ambassadors of Pantawid Pamilya who will advocate the positive changes the program has brought into their lives. Likewise, she is now being eyed as the region's child advocate in the Regional Council for the Welfare of Children (RCWC).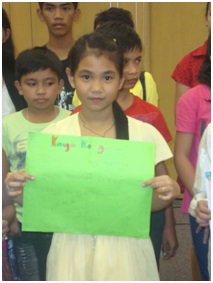 Despite the fact that Caila's father left, she still have the love and respect wishing him to come home and stop working once she finished her studies and turn to give back.
Asked for a wish, Caila hoped for a scholarship for her and her twin brother in order to realize their dreams.
Caila's optimism, confidence, hard work, and faith are her own recipe of success in transforming their poverty stricken lives into a better future.
Pantawid Pamilya is a conditional cash transfer program of the Philippine government which invests in human capital through health and education by providing cash grants to extremely poor households with children ages 0 – 14 years old.