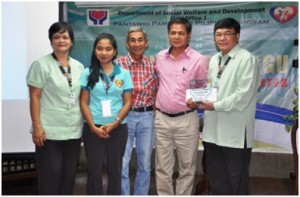 Recognizing efforts of the Local Government Units (LGUs) in supporting the Pantawid Pamilyang Pilipino Program implementation, the DSWD – Field Office 1 recently named Vigan City as the very first winner in its Search for Best LGU – Pantawid Pamilya implementer.
The search was opened to all cities and municipalities where they competed to become one of the four provincial winners to vie for the regional award. Joining DSWD for the validation include partner judges from DILG, DOH and DepEd.
All four LGU entries were judged based on 1.) the conduct and institutionalization on its Municipal/City Advisory Committee (C/MAC) (20%); 2.) Significant increase in Supply Side Assessment Compliance (25%); 3.) Approved Municipal Transition Plan (10%); 4.) Case Management System (10%); 5.) Livelihood Assistance provided to beneficiaries (10%);  6.) Unique good practice/s (10%); 7.) Hired LGU Links (10%) and; 8.) Conducive office provided to DSWD staff (5%).
Vigan City had high remarks on its regular conduct of MAC meeting, complete pool of health professionals, accredited birthing facilities and airconditioned Day Care Centers. Also, the LGU facilitated the installation of school restrooms and washing facilities.
In addition, Vigan City has a plan of achieving zero poor by 2016 thru its on-going poverty reduction program Pagsapulan: Raniag ti Masakbayan Livelihood Assistance. This program offers capital assistance for pottery, longganisa making, sari-sari store among others to identified poor families in the City including Pantawid Pamilya beneficiaries. Further, Vigan City had provided 158 tricycles and franchise amounting P60,000 to its recipients.
The LGU is also conducting basic computer operations training for Pantawid Pamilya Parent Leaders who uses this skill in sending reports to their City Link. This eventually minimizes wasted time and effort to both.
Other winners include 1st runner-up Bacarra, Ilocos Norte; 2nd runner up Mangatarem, Pangasinan and; Burgos, La Union, for the 3rd runner up award.
The activity is expected to promote and intensify the importance of converged efforts of the local government units and national government agencies in improving the lives of the poor families.
Pantawid Pamilya is a conditional cash transfer program of the Philippine government which invests in human capital through health and education by providing cash grants to extremely poor households with children ages 0 – 14 years old
by: Allan O. Lulu / Information Officer II, Pantawid Pamilya