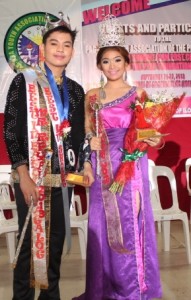 130 Youth Leaders/Members of the Pag-Asa Youth Association (PYA) from the four provinces and eight cities in the region (except for Batac City) joined the Regional Pag- Asa Youth Association of the Philippines (RPYAP) Summit cum Post Celebration of the PYAP Foundation Day held at Nueva Segovia Consortium of Cooperatives (NSCC) Located in Caoayan, Ilocos Sur, recently.
 Aside from friendship, camaraderie and sportsmanship this activity facilitated better coordination among the PYAP Federations in the Region.
 Newly elected PYAP Federated  President Richard Dizon leads the new batch of  officers for CY 2013-2015. Others include Vice President, Peter Jay Pascua; Secretary, Jeric Estioco; Treasurer, Cherry Gil Taylan; Business Manager, Jonathan Cortez; and Auditor, Marlon Ragandap.
 The Forum on the other hand, heightened the social consciousness of the youth on  emerging issues affecting the youth sector such  protecting the environment and community participation.
 Mr. Celso Jucutan of LINK (Lupon ng mga Individual na Nangangalaga ng Kalikasan) promoted activities towards environmental preservation where  5 areas of committees are implemented: Blue- Marine Conservation; Green-Reforestation; Brown-Solid Waste Management; White- Air Conservation; and Red-Disaster Management.
 Mr. Jucutan motivated the youth to actively participate to this endeavor and to closely coordinate with LINK for any environmental activities to save Mother Earth.
 PYAP Talks Success
 Richard Dizon ( RPYAP President)  and Jeric Estioco (RPYAP Secretary) gained high self esteem and have overcome shyness while doing activities for the PYAP. They became  active as  DCC/DCW accrediter, worked for the Government Internship Program (GIP), Immersion Outreach Program (IOP), PYAP Mobilization Thru Cash-for Work and the DSWD-TESDA Cash for Training Program.
 Other successful members include Melvin Libunao a former PYAP member now  kagawad in Brgy. Paras, Candon City; while Anna Arquero a former PYA President was hired as Job Order at the CSWDO-  San Fernando City. ### (by: Iryn D. Cubangbang, Information Officer II)