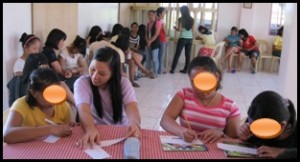 Forty (40) girl-children who are temporarily placed for custody and temporary shelter at Home for Girls were given array of psychosocial services aside from well-rounded home life activities.
 According to the OIC Center Head Norma Jacla, most of the residents are child sexually abuse cases particularly rape (11) and incestuous rape cases (15).
 Aside from the regular Psychological Therapy sessions facilitated to all the residents, there were two (2) clients submitted for in-depth Psychological Evaluation at the Center for Mental Health, Baguio General Hospital due to irregular demeanor, while one  (1) client has been on medication due to Post Traumatic Stress Disorder (PTSD).
 To address their medical/health needs, nine (9) clients were submitted for laboratory examinations due to chronic respiratory illness, abdominal pain and ear infection. Nonetheless, other children are in satisfactory health condition with the routine medical examination and health and wellness activities in the Home.
 Further, an intensified case management was conducted during the quarter thereby reintegrating nine (9) clients where the involvement of the LGU Social Workers and community officials were enjoined. With this service, the clients, as young as they may be, were able to resolve their difficulties and identify their resources.
 Socio-cultural Services
 A Cook fest and a Search for Miss Nutrition 2013  marked the celebration of Nutrition Month where  HFG was joined by a  group from the community. A poster and slogan-making contest and  nutri-jingle contest were also done.
 Also, thirty (30) student leaders from four (4) public and private high schools attended the Children's Month celebration with the theme "Kahirapan Wakasan, Karapatan ng Bata Ipaglaban".  Former Center Head now Social Technology Unit Head Fe G. Sarmiento served as the Resource Speaker.
 Moreover, a musical group band was organized as part of their rehabilitative services. This is a group where they can express themselves and expel negative feelings such as fear and trauma. (by Iryn D. Cubangbang, Information Officer with report from Home for Girls).