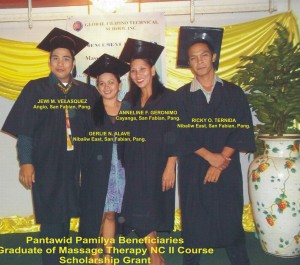 "Poor families of the Pantawid Pamilya Program show resilience that motivates  us to help them more through the Family Development Sessions and provision of scholarship."
 Thus,  the statement of  Nenita D. Saingan, a retired Nurse abroad, now the President of the Professional Caregiver Association of the Philippines (PCAP) and Lions International, San Fabian Chapter.
 With the large network of partners locally and abroad, and with a growing membership of at least  100 members, the PCAP has initially  supported 12  beneficiaries in their  massage and housekeeping  training with TESDA.
 The massage training costs Php 8,000.00 each trainee (5) and is fully covered by PCAP,  while they covered Php 15,000 each  for trainees (7) on housekeeping.
 The scholarship sums up to at least Php 140,000.000 and will still be continued and expanded in the coming months.
 PCAP  Unveils Strength of Poor Families
 Aside from camaraderie seen among the FDS facilitators and the Parent Leaders, appreciation on the simple gestures such as handing over  their farm products is really appreciated. The warmth of smile, the hugs, and greetings every session melt one's heart, Ms. Saingan narrated.
 The upland families' simplicity of living, yet giving  value to solidarity of  family was seen by Saingan in Bigbiga, San Fabian. Here, it takes 2 kilometer hike  before reaching the children who do not want to go to school and do not  even know their exact dates of birth.
 With continuous mingling with the beneficiaries, FDS became a part of their system, it even comes  ahead of  their personal activities such as going abroad for better opportunities.
 Topics in the FDS are always applicable to the beneficiaries, Saingan confirmed. During the discussion on Anti-Violence Against Women and their Children (VAWC); one beneficiary discussed this with  her husband who used to abuse her upon knowing her rights and the penalty clause for  perpetrators.
 Aside from FDS, PCAP also conducted feeding activities to at least 300 beneficiaries sometime in August 2013.
 FDS, a Channel of Transformation
 'We educate the beneficiaries, yet we learn from them; we also learn from DSWD's capability building activities,' Ms. Saingan revealed.
 With the current situation of coastal and upland families of San Fabian, Pangasinan, there are many concerns yet to be addressed on their practices and behavior. Because of this, the values inculcation and spiritual nourishment are also included in every FDS.
 Prevention of communicable diseases such as 'dengue' through segregation of waste and clean and green activities helped a lot in improving the coastal communities as taught during FDS.
 With all of these, we don't need propaganda to help, we are called for service, Saingan further said.
(by: Iryn D. Cubangbang, Regl. Information Officer)