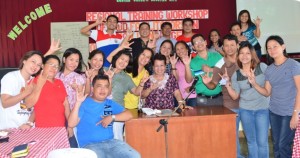 Inspired with the convergence strategy, DSWD and the DepEd Alternative Learning System (ALS) partnered to improve literacy of educable persons with disabilities (PWDs) through the 'I Love PWD' Project.
 I Love PWD stands for Interactive Learning Opportunities Via Education for Persons With Disability.
 DSWD–AVRC and DepED-ALS partnership is geared to empower the PWDs in developing desirable working knowledge, attitudes, values and skills that will enable them to cope with challenges in life through livelihood, literacy and health education programs
 With its unique strategy of door to door delivery system, the 35 trained mobile teachers conduct the learning sessions in the homes of the PWDs during their vacant hours without additional remuneration.
 I LOVE PWD Cares
 Modules are based on the 5 learning strands of ALS such as writing, communication, and numeracy  skills;  critical thinking and problem solving; moral recovery program,  among others.
 With these strands of learning, their KASHE (Knowledge, Attitude, Skills, Habits, Experience) are improved.
 According to Dr. Edwin Ferrer, the PWDs under this program have improved their self confidence, "hindi na sila natatakot sa ibang tao, gumaganda na ang kanilang learning condition (they are not afraid of other people anymore, their learning condition is also enhanced)."
 Moreover, the mobile teachers heard overwhelming appreciations from the learners," may mga magbibigay din pala ng  pansin sa amin (there are still people who are able to give attention to us) ," was one remarkable statement mentioned.
 I Love PWDs Program is essential in preparing the PWDs for higher learning in formal or non-formal institutions like the DSWD –Area 1 Vocational Rehabilitation Center (AVRC). This is true with the PWDs who have not gone to any formal school and wanted to be trained on various skills such as basic computer operation, canteen management, and massage therapy.
 Expanding, Helping More
 With stronger partnership with the Local Government Units, the Program is expected to expand in the years to come since this is found essential in helping the PWDs access their right to education and maximize their full potentials.
 For the mobile educators, the idea of helping and volunteerism does not end here, sharing the knowledge and sacrificing time, talents, and treasure will surely bring a change in the life of persons with disabilities. (by: Iryn D. Cubangbang, Regl. Information Officer)