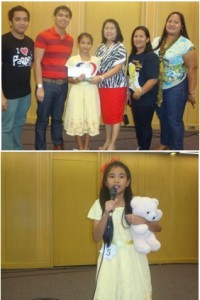 Among 17 regional representatives from around the country, eleven year-old Caila Jean Munar of Rosario, La Union bagged the 6th place award for the Pantawid Pamilya Search for Exemplary Pantawid Pamilya National Awarding at the Philippine International Convention Center (PICC) recently.
The said search aimed to encourage excellent compliance to program conditions and recognize children beneficiaries who set exceptional example at home, in school and their communities.
Grade six pupil Caila is a consistent Top performing pupil in school from Grade 1 to present and a very good student leader of Bani Elementary School. Dreaming to become a Civil Engineer someday, Caila is actively involved both in academic and extra-curricular activities. A stand out name and a proud school representative in various competitions such as Quiz Bees, sports (chess, volleyball) and member of the Drum and Lyre Corps. With these qualities, Caila topped the regional search making her the region's representative in the national search.
In the finals, Caila showcased her talent in declamation with her piece "Let this angel live" tackling the agony of unborn children.
Forty percent was judged based on wit and articulation by a panel of judges while 60% was based on talent and confidence judged by the children themselves.
First place was won by Region IV-B, followed by Region CAR in second; Region V on third place; Region IV – A in fourth and Region VIII in fifth place.
Winners will become children advocates and ambassadors of Pantawid Pamilya in their respective regions who will advocate the positive changes the program has brought into their lives.
The awarding ceremonies was the culminating activity of the National Children's Congress (NCC) attended by identified exemplary children nationwide.
Pantawid Pamilya is a conditional cash transfer program of the Philippine government which invests in human capital through health and education by providing cash grants to extremely poor households with children ages 0 – 14 years old
by: Allan O. Lulu / Information Officer II, Pantawid Pamilya