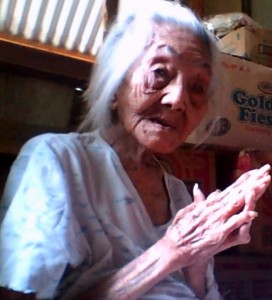 Despite her old age and inability to take care of her self, Lola Fe is known for her clean and fresh smell at the age of 97. She is wearing an aura of calmness that makes her often visited and appreciated in her community in Santa Cruz, Ilocos Sur.
Born on February 5, 1916, the radiance displayed in her pale and sagging face make  Lola Fe Lausan the 'wonder Lola' as described by the youngsters in the community.  Oftentimes, her daughter Lolita is asked how she lived during her younger days because of her long life.
Lola Fe is considered among the extraordinary elderly in  Santa Cruz, Ilocos Sur and also  among the focus of help by the Local Government Unit, said Head Social Worker Saturnina Hernandez.
Considering Lola Fe's age, good health is already an accomplishment for  her daughter Lolita Angubil, who is among her 11 children. Engaging Lola Fe to take a bath  is not easy, as she has to be placed in a laundry basin and sitted  in the middle while being washed.
She is likened to a toddler, related Lolita. Kasla ubing nga alagaak, ngem maragsakanak a mangaramid kaniana dagitoy ta mananam na met panagayatko. Idi inyanak nak sinaksaklot nak ita isu met saklutek.   (Mother  is now like a toddler being cared  for, but I am happy  showing her my love. When I was young, she held me in her lap, now I am the one doing it to  her )," said Lolita
With proper care and good nutrition (mostly vegetable viands), Lola Fe is still healthy at 97. "Nasayaat pay iti salun-at na, daydiay laeng kinabaket na," (She is in good condition, it is only her old-age that makes her vulnerable), said Lolita.
More importantly, Lola Fe is cherished in the family. 'Uray marigrigatan kami ket haan mi kayat isuna a matay pay (Even if sometimes burdened, we do not want her to die yet).  Lola Fe's grand children enjoy listening to her soft voice relating stories  and giving advice  such as to be good always saying, 'agsingsingpet  kayo,' in vernacular, said 8-year old great granddaughter, Jessica  Angloben. In return, her grandchildren take time to play with her by gently scratching her back while Lola Fe prays her rosary.
Stipend, an add on
There are many things to be thankful for, but Lolita is more grateful for  the governments help such as the stipend she receives every three months from the DSWD's Social Pension Program, "Maragsakan daytoy riknak ta adda para ken nanang"  (I feel elated because   my mother gets something).
"Agyaman kami iti gobierno ta nairaman ni nanang, addan igatang para iti meryenda ken kanenna," (We thank our government for making my mother a part of their program. Now, she has money to buy for her food).
"Iyan anay mi daytoy a gatad para ken Nanang, napia ta adda ited ti gobierno a kastoy (We make both ends meet for the stipend of my mother, at least the government provides such).
Accordingly, the stipend makes Lola Fe's and her daughter's   life easier especially  that they have  no stable source of income.
In the municipal level, Mayor Teresita Valle extend financial assistance to needy  senior citizens.  (by: Iryn D. Cubangbang, Information Officer II)