In pursuit of  excellence in Human Resource and Organization Development, DSWD passed the Level II Accreditted Status by the Civil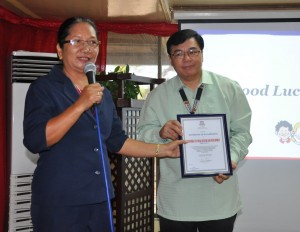 Service Commission, where the former received its accreditation certificate recently.
 With a rating of 90%, DSWD Field Office 1 continues to have a  competent Human Resource Management and compliant with the requirements, said  CSC Director Violeta N. Mendoza.
 Thru this, DSWD speeds up its  hiring and recruitment processes with the bulk of appointments done regularly for its poverty reduction programs. Final action on appointments are done by the appointing authority in accordance with  Civil Service Law, rules, and regulations. This  covers all appointments issued by the appointing authority.
 This program is under the Civil Service Program to Institutionalize Meritocracy and Excellence in Human Resource Management (PRIME-HRM) that capacitates national agencies in their Human Resource Management functions.
 In response, DSWD Director Marcelo NIcomedes J. Castillo  posed a challenge to continue with the good performance in hiring, managing and developing people to be responsive players in social protection programs and to always practice its mantra of 'mahusay,' 'matapat,' at magiliw na paglilingkod sa sambayanan.  (by: Iryn D. Cubangbang, Information Officer II)