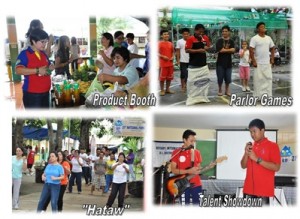 Families of employees, resident- clients, and partners convened during the first Family Week Celebration led by the Child Advocates Association in Region 1 with its President, Atty. Marilyn Hidalgo and members of the Rotary Club Metro –San Fernando. This was held at the Regional Rehabilitation Center for Youth (RRCY), Bauang, La Union recently.
"With this advocacy, we want to encourage more individuals and childless couples to foster or adopt neglected, abandoned and/or foundling children; for foster parents, they have to be licensed first, Atty. Marilyn Hidalgo emphasized in her radio interview with Bombo Radyo."
The event started with Fun Run (5km and 3 km) at 6 o'clock in the morning of September 21, 2013 at Urayong, Bauang, La Union to RRCY. After which, a "Hataw" was facilitated by the members of the Rotary Club San Fernando City Chapter Inc.
During the Program, Engr. Johnny Taguinon, a former RRCY resident inspired the crowd by relating his rehabilitation experience and how he was able to brave the difficult situation.  With prayers and perseverance, he made it. He is now working as a seafarer abroad and has built a well-loved family. For the RRCY residents, he motivated them to keep a good heart, faith in God and maintain good fellowship among themselves.
Moreover, the Talent Showdown increased the fun moments with dancing, singing, and group presentation contests among the children of DSWD staff and center residents with the jurors from Child Advocates Association and Engr. Rodel Nuval (voice coach of Bagong Sibol  Choir of DSWD).
The winners are as follows: Fun Run 5 KM- Orlando  Bacani; Fun Run 3 Km – Danjoe Mendez; Vocal Solo (Kiddos) – Shifra  Bringas;  Vocal Solo (Junior Category) – Cyril Banzuela; and  Dance Competition, Riza Mae Ridual. They were awarded with cash sponsored by the Child Advocates group.
As part of the celebration,  Pantawid Pamilya beneficiaries from Santol, La Union brought along their agricultural products such as soft brooms, ginger tea, root crops, among others to sell in their respective booths.
The DSWD Regional Director lauded the Child Advocates Group in sharing their resources to invigorate stronger families among DSWD employees and residents in realizing the theme "Unity Across Generation: Stronger Family, Stronger Society." ### (by Iryn D. Cubangbang, Information Officer II).