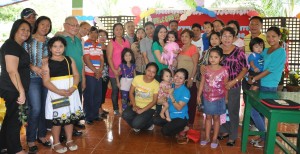 DSWD Field Office 1 in cooperation with Child Advocates Association Inc. held the First Adoptive, Foster Parents and Children's Congress at the Regional Rehabilitation Center for Youth, Bauang, La Union which  resolved issues experienced by the  foster and adoptive parents and their children and formed a support group  as part of adoption post services.
 In his message, Director Marcelo Nicomedes J. Castillo expressed the need to encourage and recruit for more adoptive and foster parents  who could provide a caring home and/or permanent family for the increasing number of abandoned, neglected and abused children of Region 1.
 With the said Congress, adoptive and foster parents were uplifted with the shared testimonies, getting strength from the same situations made them realized that the group is a good avenue of sharing the difficulties as well as happiness of being a foster or adoptive parent, said lead convenor  Clarivel Banzuela.
 'Raising an adopted child gives the same happiness and contentment just like having a biological child," said Myrna Aplot an adoptive parent. "As mentioned, her angel now completes her life and family."
 Further, Myrna Aplot affirmed that with the activity, "we felt the sincerity of DSWD, totoo palang may concern sila sa amin (they really care about us)."
 To note, adoption is defined as a socio-legal process of providing a permanent family to a child whose parents have voluntarily or involuntarily relinquished parental authority over the child; while foster care refers to provision of planned substitute parental care to a child by a foster family.
 This event supports the Children's Month celebration wit the theme "Kahirapan Wakasan, Karapatan ng Bata Ipaglaban" giving focus on four basic rights of a child anchored on survival, development, protection and participation. ### (by: Iryn D. Cubangbang, Information Officer II)