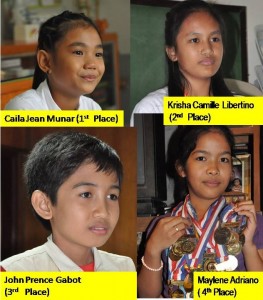 Four (4) consistent top performers in school making extraordinary contributions at home and community are some of the traits of the recently awarded  Exemplary Children of the Pantawid Pamilyang Pilipino Program of DSWD Field Office 1.
 Giving due recognition to parents and for these children  to continue being a role model in school and in their own communities were emphasized in the message of Dir. Marcelo Nicomedes J. Castillo during the awarding ceremonies held recently.
 During the evaluation, these children were assessed on their behaviours and practices, intelligence, community and school participation and appearance.
 First Prize winner  Caila Jean Munar from Rosario, La Union captured the heart of the evaluators with her wit, neatness and balanced development both on academic and physical  activities (volleyball and badminton player). She serves as a peer tutor in school and to her brother who also excels in school and regularly attends coastal clean up drive.
 Reaching for better lives through education. This is the focus of Second Prize Winner  Krisha Camille Libertino,  who being a member of the Indigenous "Bago" tribe and attending an annex school (Suyo National High School) does  not see these as hindrance to reach her  dreams. In fact, she believes that "hindi eskuwelahan ang batayan para  makapag –aral at matupad ang mga pangarap sa buhay" (school standards are not the  pre-requisites to having a good school performance and in reaching goals).
 Krisha Camille Libertino  loves performing cultural dances depicting their nature-loving culture. She is a dependable student both at home and in school.
 "Sana matupad na ang tuwid na daan" referring to the tagline of the Aquino administration will be John Prence Gabot's message, if given the chance to ask President Aquino. Third Prize winner John Prence from Laoac, Pangasinan has high hopes of becoming a doctor someday with his good scholastic performance and love of his parents.
 Fourth Prize Winner  Maylene Adriano from Laoag City is a typical hard working student whose focus is to finish school and  become an accountant someday. Despite meager resources, she has strong desire to finish school even if it takes a half-kilometer  walk from their house to school.
 These children were awarded with cash prizes of Php 15,000; Php 10,000; Php 5,000 each for first, second and 2 consolation prizes, respectively. They will join the National Children's Congress  in Manila during the DSWD's Children's Month celebration and will have a tour at the Senate and House of Representatives. Likewise, Caila Jean Munar will compete in the National Search for Pantawid Pamilya Exemplary Child for 2013 representing Region 1. (by: Iryn D. Cubangbang, Information Officer II)