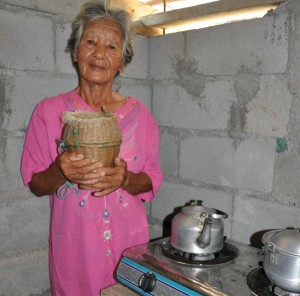 Single and loner  Dolores Sucapen, 80 years old, is a mirror of strength among poor senior citizens in Sugpon, Ilocos Sur, particularly those  who are also managing living alone until the end of their days.
 Living in the heart of this mountainous town bounded north by the Amburayan River, Dolores is determined to thrive more to support her daily needs particularly on food.
 Most often, she gathers 'kusipeng (native snail)' and 'kangkong' leaves for meals. If failed to do so, she bears  to eat just plain rice.
 Because of this situation, she was relieved upon receiving for the first time the stipend from Social Pension Program. 'Nabang-aran ti barukongko (my heart felt lighter),' she exclaimed. 'Nu awan daytoy, kasanon (if this ends, what will happen to me?), she sighed.
Stipend on Food and Home Facilities
 Her daily food intake slightly improved with the stipend she receives. With this, she is now able to buy milkfish and 'galungong' whenever available. She also buys and stores rice in her kitchen. There was even a time when somebody stole her rice stored as mentioned.
 Also, the stipend she received was used for basic necessities at home  such as gas stove, spade, and pails. The spade is being used during rainy season to remove the soil being eroded from the mountain at the back of her house.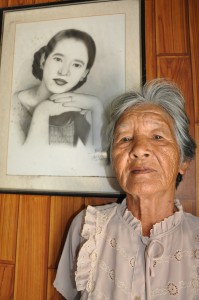 Accordingly, she wants to buy important things while the stipend is still available. As said, she wants to acquire items that could be
used for  a longer time.
 All the while, Dolores has also a clay stove ready to be used when her LPG runs out and she has no money to buy one .
 Worry Leaks
 Despite being adjusted living alone, Dolores thinks much of the coming days when all her strengths will be gone. Who will take care of me?, she gasped. As experienced, if she will not give any penny for a simple task from among her neighbors, nobody wants to give the favor.
 With much thinking about this concern, she regularly gathers twigs and dried tree branches and piles them for future use. She is afraid that when she can no longer move any further, she will have no firewood to use.
 Above all, she entrusts her life to her Creator who will make way for her remaining days especially when her end has come.  (by: Iryn D. Cubangbang, Regional Information Officer)