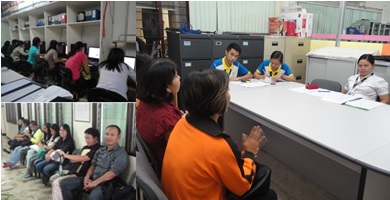 In preparation for the second round of household assessment in September, the Department of Social Welfare and Development Field Office 1 (DSWD FO1) is now pooling thousands of applicants for Area Coordinators, Area Supervisors, Enumerators, Encoders and Verifiers.
DSWD FO1 is currently building a workforce of 2,924 Field Support Staff to include 78 Area Coordinators, 387 Area Supervisors, 1,935 Enumerators, 262 Encoders, and 262 Verifiers to assess a total of 928,633 Households entire the region through the Listahanan or the National Household Targeting System for Poverty Reduction (NHTS-PR).
Multitudes of aspirants for the mentioned positions who aim to be part of the nationwide activity of the Project approached the DSWD FO1 to tender their application.
The Personnel Selection Committee (PSC) vigorously screens all applicants to make sure that those only fitted, competitive, and qualified are hired. Such qualities that the PSC is looking for would not compromise the quality of their output and that of the integrity of the Listahanan Database for its updating.
The PSC will visit the provinces of Ilocos Norte, Ilocos Sur, La Union, and Pangasinan to conduct interview and deliberation for Enumerators.
After the selection and hiring of qualified applicants, the National Household Targeting Unit (NHTU) Staff will train them with the necessary skills in administering the Household Assessment Form (HAF) for them to gather accurate, complete, and reliable data.
Inculcating the minds of the Field Support Staff the battle cry of the Project is just a first step in ensuring that exclusion and inclusion errors will be avoided during the second round of household assessment. (by: Jaesem Ryan A. Gaces, Administrative Assistant V, Listahanan/NHTS-PR)