At least 250,000  seedlings were grown by  25 Pantawid Pamilya beneficiaries at Villacorta, Mabini, Pangasinan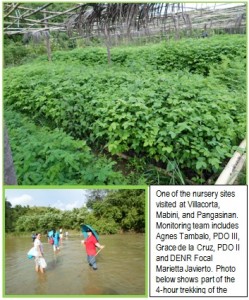 engaged in the DENR's National Greening Program intended for the reforestation of said barangay.
 These beneficiaries were organized as Villacorta Green Thumb  Self Employment Assistance Kaunlaran Association. DSWD awarded then with capital assistance amounting to Php 200,000.00 which was used to purchase seedlings from DENR. After three (3) months, DENR staff validates and buy each seedling ( with 30 cm length)  at  Php 5.80.00 giving each member expected sales of Php50,000.00.
 Seedlings were nurtured in a nursery established in an area near the reforestation site. This one-cycle nursery establishment required each beneficiary to  produce 10,000 seedlings but were given additional  1,000 seedlings for  mortality rate.
 Short- gestating production forest trees such as Kakawate, Ipil-Ipil and bamboo were planted in three separate nursery stations.
 The Green Thumb  SKA subcontracted with DENR's organized people's organization to produce 500,000 seedlings and  to plant the same in 455 hectares reforestation site. By 2013, each member will be engaged again  to plant 1,000 seedlings per hectare  and earn Php2,500.00 per hectare. They will also be registered as people's organization with DOLE or SEC so that they will be contracting directly with the DENR.
 Other than this tree plantation project, the beneficiaries are also being prepared by DENR for agri-cash cropping such as ginger and fuel wood plantation in their assigned area.
 (By: Iryn D. Cubangbang, Information Officer II)