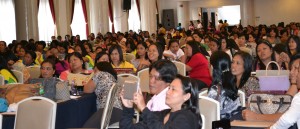 Region 1  Day Care Workers convened recently for the  2nd Convention of the Regional Federation of Day Care Workers, Inc. giving highlight on  the Early Year's Act,  Awarding of Loyal Day Care Workers (at least 30 years in service), and Contests on Birit King/Queen and Story Telling.
The crucial role of Day Care Workers in the development of  child's emotional  security, social competence and intellectual capacity was emphasized by DSWD Director Marcelo Nicomedes J. Castillo. "The role of Day Care Workers or Child Development Workers is indispensable. It requires sincerity and dedication," Director Castillo further mentioned.
 Also, the Day Care Workers were commended for the continued service despite minimal subsidy.
 To monitor the health status of Day Care Children, the World Health Organization (WHO) – Child Growth Standards,  it was agreed that  Barangay Nutrition Scholars and Barangay Health Workers will work on it in cooperation with the Day Care Workers.
On Early Year's Act implementation, the Day Care Workers were advised for continuous education  and to pass the accreditation to compete with other qualified Child Educators, hence,  staying in the service is assured.
On Local Council for the Protection of Children (LCPC), the 1% allocation from the Internal Revenue Allocation shall be pushed for Day Care Children Services through activities included in the Work and Financial Plan.
As break-away events, the Story Telling and  Birit King/Queen were facilitated and declared the  winners namely (first prize to third prize): Marilou Lagmay,  Batac City; Teresita Rubas-Laoag City; and  Ptr. Violeta Dela Cruz, Urdaneta City for Story Telling. Winners for the Birit King/Queen  were  (first prize to third prize)  Guian C. Gamet, Banna,Ilocos Norte;  Rocelyn Yapching, San Fernando City, La Union ; and Imelda Juan,  Laoag City.
The  event was initiated by the Regional Federation of Day Care Workers of Region under the leadership of Blanchelita Dumlao. A minimal registration fee was collected to suffice the logistics/board and lodging of participants. (By: Iryn D. Cubangbang, Information Officer II)