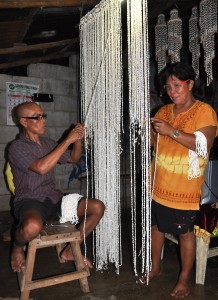 Thus, the statement of Nory Lalaguna, a Pantawid Pamilya beneficiary who braved the challenges of being a poor with no one to lend a hand until DSWD's poverty reduction programs  came to assist her and family.
 Nory at 49 lives a simple life with her 8 children and husband Jose at Barangay Guyoden at Santiago Island, Bolinao, Pangasinan.
 Four (4)  years back, her son Adrelle, now 17 years old but still  looks like 8 years old suffered from anemia. Since they have no money to send her to a physician that time, they just prayed that God will do miracles in their lives. It was timely that  Pantawid Pamilya  Program came. With the cash grant Adrelle was able to drink formula milk and eat more nutritious food that helped regain his health. Now, he is stronger and lives a normal life despite his physical condition (dwarfism).
Behavioural Change Pushed
 With 8 children as inspiration and in compliance to the conditionalities of Pantawid Pamilya Program, Nory's husband Jose slowly transformed into a better person. He used to be a  cockfighter, drunkard, and gambler, but now, a God-fearing and more responsible father.
 Jose works as farm labourer earning a minimum of Php 200.00 a day. He works hard not to entail any debt from anybody. 'Mas maganda nang maging mahirap  kaysa nangungutang' (It is better to be poor than in debt),  he boldly mentioned  in one of the home visits done.
Also, Jose helps Nory finish her shellcraft novelty items making even up to late hours of night.
 Moreover, Nory's leadership and confidence were enhanced, she being a Parent Leader who regularly talks with 149 Pantawid Pamilya beneficiaries in their barangay.  Her access to basic government services also improved with the opportunities provided  by the Program.
 With Pantawid Pamilya Program, Nory's children were also encouraged to attend to school even if they still work at 'danggit' production to earn additional allowance. Accordingly, most of the children in the island work in 'danggit'  making. With the Program, many children went back to school.
Capital Assistance Works
 Hard work and innovativeness helped Nory increase her income with the capital assistance provided by DSWD's Sustainable Livelihood Program. She started hog raising with Php 5,000.00 capital. Instead of the commercial hog mash, she cooked fish gills from  'danggit' production and added rice bran for her pigs. At present she has 9  growing pigs.
 Nory's shellcraft production is also earning at least Php 500.00 a week. She used to hand shellcraft novelty items to dealers, but she realized a better income with direct selling. Recently,  she produced Php 7,500.00 worth of shell necklace ordered by the Department of Tourism. (Iryn D. Cubangbang, Information Officer II)