Ang pagiging ordinaryong mamamayan ay hindi hadlang para makatulong at makagawa ng maganda para sa susunod na henerasyon (Living an ordinary life  does not hinder a helpful heart to share and do good works for the next generation).    It only takes the  principle of a good heart and willingness to extend one's self in order  to create bunch of  smiles  among the less fortunate individuals.
 This is the inspiration of Clarivel Banzuela, Social Welfare Officer IV  of DSWD Field Office 1 in working for  her  mangrove planting project and provision of used clothing, school supplies and food  to needy families at Bonoan, Boquig, Dagupan City.
 The Moulding  of a Social Worker at DSWD
 Clarivel started her stint as a Houseparent in 1998 in providing substitute parental care to women and children victims of abuse, who later on developed special heart for these clientele groups over the period of four (4) years. Afterwards, she became the lone Social Worker handling the court cases of 60-70 Children in Conflict with the Law (CICL) undergoing rehabilitation. Having worked with the CICL, she came to realize that although they are considered perpetrators they also need utmost care as part of their case management.
 When she was promoted as Social Welfare Officer II handling court –related cases, extreme challenges came her way that harnessed more her skills in creating a difference in the lives of the people she dealt with. Literally, she climbed  mountains, swam rivers, and conquered hazards of any form during rescue operations. Clarivel performed with efficiency and hardwork. Now, she could proudly say that she had helped restore the normal social functioning of a thousand persons who are now empowered individuals.
 Despite Caseloads and Performance Contract, Extension Services  Started
 In 2008, Clarivel started providing used clothing, shoes,  and school supplies to at least 5 families, now numbering at 50 families in  Boquig, Bonoan, Dagupan City.  She collects this hand over clothing from friends and neighbours who have some extra goods. Some of the items though are newly bought particularly the school supplies.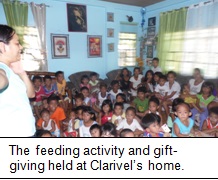 Over the years, it became a practice that during Christmas Season, a simple feeding activity and gift giving happen in their home. Also, prior to opening of classes, newly bought and recycled school supplies are given to school children.
 These activities became a family bonding, whereby everyone in the family is encouraged to collect and store the goods ready for the sharing time.
 'May  mga taong hindi naman mayaman pero nakakatulong sa ibang tao,'  (There are people who are not rich but are helping other people). These are some of the words coming from the community  she  helped.
Assisting Youth in Mangrove Planting
 The mangrove planting project  started with Clarivel's children Carlo and Ciara who both led the Youth for Environment School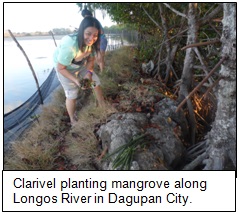 Organization on a 3-year consecutive stint as presidents, one after the other.
 Because of this, Clarivel and husband Romeo, assisted their children along with other 30 youth members in cleaning the riverbanks and in planting mangrove seedlings. They cook  and serve free hot soup or any available snacks for the group.
 Since 2010, Clarivel together with her  family members  claim to have maintained at least 500 meters mangrove plantation along the riverbank of the Longos River.
 The Banzuela, a  Family  Worth Emulating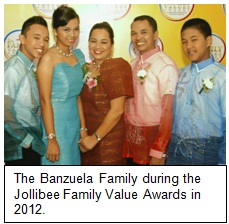 Clarivel and her family received the Jollibee Family Value Awards in 2012.  This Award gave high remarks to the Banzuela Family on their activities that are focused  on  promoting a safe environment through mangrove planting and sharing collected extra used items from the families in their neighbourhood to other families who are in need.
 They received Php 100,000.00 cash incentive from Jollibee and continue on with said projects without expecting anything in return but to really help other families in the simplest way they can.
 Dream Big
 Clarivel also dreams of setting up functional and strengthened organizations in the community bringing timely and appropriate services to women and children victims of abuse. This is a concept she would like to work on to develop as a social technology.
 Also, as an ambassador of good family values by the Jollibee Corporations, she wants to tie up a community project whereby a livelihood project will be funded from the proceeds of  collected recyclable materials dubbed as "Dunk  for Mother Earth." Another project in an identified barangay is a family counselling center and e- library where low educational parents can access the internet and learn  things like social issues and current events especially those that are significant to them.
 For Clarivel, taking the small steps will always lead to a great achievement, whether recognized or not,  so long as it  is felt by the needy individuals. (By: Iryn D. Cubangbang, Information Officer II)