No wealth and possesion. Nothing to own. Nothing to boast. But all of these flipped while the chance to experience comfort is now within her grasp as she has now the Next Opportunity (NO) to bring color to her life.
She rejoices in her heart as she totally bids goobye to the days of famine. Though she is now at the declining period of her life, she is still fortunate to have a chance to experience providence from the Social Pension Program of the Department of Social Welfare and Development Field Office 1 (DSWD FO1).
A living testimony being shared by an eight decader Loreta Saygo and a social pensioner who hails from Brgy. Libtong, Tagudin, Ilocos Sur with her daughter Teresita Ramos who craddles her in the most challenging part of her life.
Superb Might
Though she is already eighty three, she still take hundreds of steps to personally accept her pension with the aide of Teresita. After receiving her pension, they go straight to the market and buy Lola Loreta's needs such as milk, coffee, rice, snacks and others.
Lola Loreta feels more energized when pay out time comes. She even do not mind how far she would walk just to witness her pension to land on her palms. "Daytoy pensionko ket kaslang isu ti sarukodko isunga kabaelak pay laeng nga iyaddadang dagitoy sakak numanpay agkutukut dagitoy tumengkon ken agkubkubbo nakun." (I consider my pension as my wooden stick that helps me take single steps despite of my weak knees and curved back.)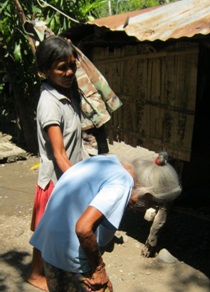 Shared Delight
The moment that Lola Loreta receives her pension, she also thinks to give a small amount to her sons and daughters after buying her needs. "Naragsak nak nga immawat isunga iburay ko met ti ragsakko ti sabali nangnangruna dagiti annakko." (I want also to share the happiness I felt upon receiving my pension especially to my sons and daughters.) Lola Loreta further added that she extends her hands to her needy son and daughters in raising their children. "Kas inada, ammuk ti pagkasapulanda aglalu ta makitak met ti kasasaad ti panagbiagda." (Being their mother, I know their needs especially I can see how they live.)
Before and After
"Siak ti agdawdawat ti kuarta kadagiti annak ken appok idi ngem ita ta adda met maaw-awatko, siakun ti mangted kadakuada uray sangkabassit laeng." (I am begging money to my siblings and grandsons/daughters before but now that I have my pension, I share some amount with them.) According to her this is still her responsibility being a mother and when she saw them smile, that makes her stronger everyday.
By Jaesem Ryan A. Gaces, Administrative Assistant V, NHTS-PR