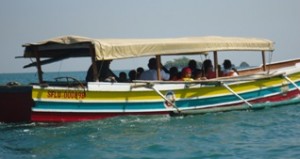 Twenty-three (23) residents of the Haven for Children enjoyed summer-fun activities that dealt on improving their behavior and attitude towards their rehabilitation and reintegration program.
Under the leadership of Ms. Rosemarie Rosales, activities conceptualized by the rehabilitation team focused on learning visits and enhancing their potentials through summer-fun activities.
Educational Tour at Alaminos City Hundred Island. Family like-fun experience was the focus of this tour that was complemented by the Provincial Government of Pangasinan for the free bus ride.  A 30-minute  motorboat  led them to the islands of  Quezon, Governor's Island, and Children's Island.
Simple hiking at Governor's island made the children appreciate more the beauty of these islands instead of just viewing them on a higher ground.  In connection to the rehabilitation of these children, having experienced this get-away activity,   bonding with fellow residents and the staff was reinforced while spectacular sceneries read on books are now  seen up-close.
"Masaya kami Ate . Maganda yung lugar kahit malayo. Nagenjoy kami. (We are happy. These places are beautiful although very far. We enjoyed this.)" These are the few lines of the residents while they are in these places. As confirmed by Social Worker Juliet Sicat, this tour is part of their rehabilitation process whereby recreational activities will relieve any stress from the residents.
River Cruise at  Dawel, Bonoan Gueset is   a  45-minute  sail on  motorized bamboo raft along the famous tourist come –on spot in Dagupan City. This  paved the way for more  enjoying moments for the residents appreciating the efforts of City Government of Dagupan to preserve the environment and boosting eco-tourism at the same time.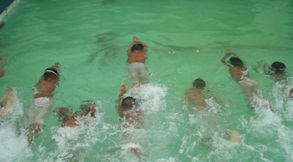 Swimming and  Taekwondo Lessons. There were 6 sessions of Swimming  Lessons done from months of April – May, 2013  participated in by 10 clients . This was provided freely by YMCA,   Dagupan City.
On Taekwondo, there were 8 sessions provided by TRACMA to 10 clients. After these series of Taekwondo Class, the children were seen to be more disciplined. They came to practice more respect to others, regular good grooming, personality and hygiene that are necessary for their everyday living.
Certificates of  Participation were given  to those who completed the 8 sessions. Two clients were given medals for achieving excellent performance.  (by: Juliet Sicat, Social Welfare Officer and Iryn D. Cubangbang, Information Officer II).