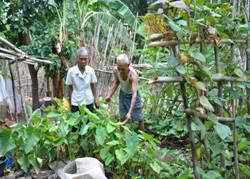 Life's simplicity yet abounding with natural amenities such as spring water, the mountains and streams teeming with plants and animals,  a vegetable garden, and a wood stock for a clay stove complete the everyday routine  of Marcelino and Magdalena Buenavista in Carasi, Ilocos Norte.
Both 88 years old,  Magdalena and Marcelino are among the 16,821 poor beneficiaries of the Social Pension Program. Left out by their three (3) children, they try to sustain life in the  simplest ways. With the Social Pension Program,  'dakkel iti panagyamanmi iti tulong ti gobierno (We are very grateful of the government's assistance), they exclaimed.
They deserve the assistance from our government, they are real indigent, said Municipal Social Welfare Officer Leonor Reyes. The old couple were identified through the database of poor of the National Household Targeting System for Poverty Reduction.
Life is Great Amidst Old Age
88-year old Marcelino still work in the mountains, planting  banana and vegetables such as squash and 'kangkong.' The harvest are then sold to  the neighborhood by Magdalena. Accordingly, she earns at least Php 50.00 a day at an  irregular interval.
To buy basic needs such as food stuff and medicine, Marcelino has to join the jeepney- ride going to  either Solsona or Laoag City. Accordingly, most of the food they consume are plain vegetables.  They buy meat very seldom.
Most often Marcelino  pick  native 'kuhol' (snails) and gather  wild ferns for their food .
With the stipend that they receive every three months, they are able to buy  1 sack of rice amounting to Php 1,500.00. They are very proud of it and even showed it to the DSWD staff who visited them. (by: Iryn D. Cubangbang, Regional Information Officer)