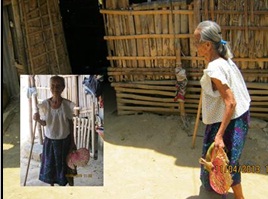 A million thanks! That is what a 97 year old woman could only say after receiving her first stipend from the Social Pension Program of the Department of Social Welfare and Development (DSWD).
Such assistance serves as a big help for her to sustain and meet her daily needs especially for medication, food such as rice, milk, coffee, among others.
Sweet Revenge
Lola Hertrudes "Upis" N. Reyes enjoys a simple and peaceful way of living with her daughter Jacinta in Brgy. Sococ Norte, Luna, La Union.
Jacinta never left behind her old mother. She and her brother decided to build a small dwelling for her which is connected with their typical two-story family house because Lola Upis can no longer climb the ladder.
Jacinta always keep an eye on her mother. She makes sure that Lola Upis is always fine. According to her, this is just her way of paying back the sacrifices of her mother in raising her well. "I owe everything to her, so that is why I should not be selfish in giving her motherly care she deserves especially now that she is old already", said Jacinta.
Still Alive and Kicking
Cooking, washing clothes and dishes, sweeping, and sewing – these are just among the daily household chores that Lola Upis can still easily accomplish all by herself.
"My body aches when I am not doing anything" she said. She further added that she is used to doing these things since she was young.
Jacinta added that her mother is still very tough. She even claimed that her mother might live longer than her.
Lola Upis always keeps her fingers crossed for a longer life. And her prayer is now being answered little by little through the tender loving care she receives from her daughter. More so now that she is one of the indigent Senior Citizens being assisted by the government through the DSWD's Social Pension Program. (by: Jaesem Ryan A. Gaces, Administrative Assistant V, NHTS-PR)