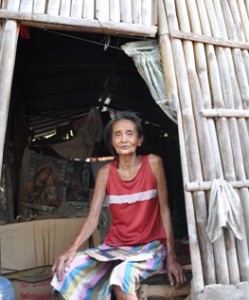 To make both ends meet, even the smallest  food item such as one pouch of noodle is consumed for 3 consecutive meals. This is the life of Francisca Guillen, 79 years old of Paras, Sto. Domingo, Ilocos Sur as narrated to DSWD staff during home visit.
In times of shortage and old age, Francisca still worries on the situation of her children whom accordingly also live very poor since none of them got a good education."Panglaw dagiti annakko, kakaasi da met (My children are poor, how pitiful they are)."
Scarcity of food had become an ordinary situation for her, 'guduaek pay ti nalingta  itlog ta mamindua a kanek (a boiled egg is also halved  good for 2 meals), she narrated.
Francisca lives  in her simple abode with her son who has slight mental retardation.
Delighted  with Social Pension
Despite her thin body and blurring sight, Francisca still does the laundry and often takes care of her grandchildren.
When asked about her stipend from Social Pension  Program, 'nu awan daydiay matayak a mapilpilit (I may die easily without the stipend), Francisca said in teary eyes.
'Pagyaman tay bassit a tulong ta nasaysayaat ngem tay awan (The small amount is better than nothing, I am very thankful).Agtultuloy koma daytoy (This should continue), she wished.
According to Francisca, she is trying all her means to make the Php 1,500.00 – stipend enough for her food and other needs for three months until the next stipend is again given. Fortunately, Francisca has no ailment aside from being weak.
Francisca is among those elderly who were not able to climb the ladder of education because of poverty. During her younger years, she helped in planting tobacco and rice. At present she can still  gather  dried twigs and tree branches used for cooking in her clay stove. (by: Iryn D. Cubangbang, Regional Information Officer)