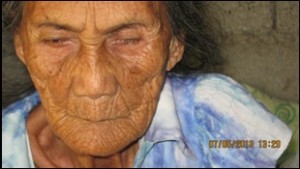 Nine decades have already passed in her life and she witnessed how the wheel of time rolled furiously. Gone are the days of childhood and being youth, now she is getting weaker and weaker and almost lost everything but not her faith and courage to see again the light she enjoyed during her old times after her eyesight was gone.
That is the very desire of Ma. Salome Castańeda, one of the social pensioners of the Department of Social Welfare and Development Field Office 1 (DSWD FO1) from Brgy. Butubut Oeste, Balaoan, La Union.
 To Believe is To See
"Babaen ti maaw-awatko a pension, mapaagasak daytoy matak ta sapay la kuma ta patgan ti Apo ti pannakaisubli ti panagkitak." (I do hope that through my pension, I can be able to visit an ophthalmologist and may God grant my prayer to bring back my eyesight), said Lola Salome as being witnessed by her daughter in law, Teresita Castańeda, 58 who takes care of her every day.
According to Teresita, every morning Lola Salome asks her assistance so that she could be able to sit in front of their door. This is where Lola Salome says her prayer as she aims her eyes towards the rising sun. She always asks for God's mercy that someday she will be able to see the light again.
Caress she deserves
Teresita did not left Lola Salome alone after she got separated with her husband instead she took the responsibility of taking good care of her. "Isunan ti nanangkon. Panunutek ti panangistimar ko kenkuana, saan nga ti panagsinami kenni asawak."(She is now my mother. I do not mind my broken marriage with her son anymore but to focus my attention to her.) Teresita promised with her teary eyes.
Teresita even gave up her occupation being a housemaid just to give full time in keeping an eye on her mother in law. According to her, she serves the right and nutritious food like vegetables and meat to her since she was the one who takes care of her, not just like before she only feasted on rice mixed with sugar, cooking oil, soy sauce, and fish sauce.
According to Teresita, "Siguraduek a maigatang laeng ti pensionna kadagiti bukodna a pagkasapulan. Kayatko a nadalus ti konsensiak idinto a siak ti mangtengtenggel ti pensionna." (I am ensuring that her stipend will be spent well based on her needs alone. I want my conscience to be clean since I was the one managing her stipend.) She further added that she gives the care that Lola Salome deserves until her final day comes. (by Jaesem Ryan A. Gaces, Administrative Assistant V, NHTS-PR)