Ordinary women in Pugil, Santol, La Union continue to wrestle against problems on employment and deficiency. With DSWD's intervention, they are becoming more economically-vibrant citizens through buy and sell activities.
At first, these women are recipients of cash grants from the Pantawid Pamilyang Pilipino Program. In 2011, the assistance was added with start-up capital through the Sustainable Livelihood Program of DSWD.
This group of women became members of the Pugil Self Employment Assistance Kaunlaran (SEA-K) after series of mandatory trainings and assessment done by DSWD Project Development Officers (PDOs).
In one of the market days of Balaoan, La Union where these women sell their products  PDO Jobel Medina, and the author visited them in their trading activities.
Developing Economically- Active Women
Hard work, patience, and love for family make things happen for these women.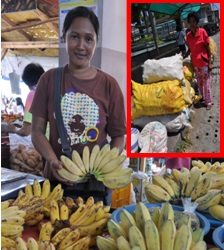 For Leonora Ducusin, 59 y/o, at least  Php 1,000.00  net income was earned in one market day at  Balaoan, La Union where 10 sacks of sweet potato and several kilos of  yam, dried beans and ginger were sold out. She is among the 15 members of the Pugil SKA who received Php 5,000.00 capital assistance in 2011. As said, trading is tiring but patience is among the greatest virtue one should possess. 'Anusan ta isu pagbirokan (I should be patient because this is where we earn), Leonora exclaimed.'
Rayleen Zambrano, 32 y/o regularly earns Php 800.00  per week from buy and sell of agricultural products. Also, she is engaged in direct selling of  cosmetic products from 3 famous companies  where she could already buy  items in cash because of the capital assistance. She also earns an additional  Php 350.00 a month from this. Her buy and sell income together with the cash grant she receives satisfy the basic needs of her 2 children such as dairy products and vitamins. A small savings of the family was also mentioned.
The 'Helping Process'
As treasurer of the Pugil SKA, Josephine Uhang, 37 y/o, claimed that depositing in the bank for their repayment is another exciting experience. "Ita lang mapadasak ag deposit (it is my first time to deposit in bank), Josephine mentioned.
For an on-time payment, she conducts home visit even in remote areas to remind them if not to collect their dues. This is to maintain their good repayment rate which is 100% as to this writing. (by: Iryn D. Cubangbang, Regional Information Officer)