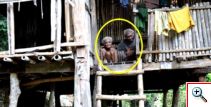 DSWD's Social Pension Program reaches more destitute senior citizens who had braved the hard times of life such as illness, weakened bodies and poverty.
In Barangay Abut, San Fernando City, La Union,  88-year old Lola Fe who has folded  and weak  legs is among the visited beneficiaries of Social Pension Program. Since, she could no longer  stand erect, she gently moves by sliding herself while seated especially when working on household chores like food preparation and house cleaning.
Lola Fe and her husband Rosalino  are among the 213 social pensioners of San Fernando City, La Union.
With this condition, it had been a while since Lola Fe went down from their bamboo house which is about  5 meters high.   She often pity herself but Lolo Rosalino consoles her and give massage to her aching legs to ease her discomfort especially during night time.
Aging Yet Earning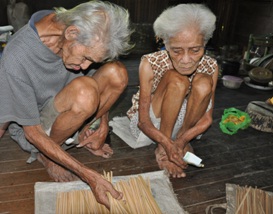 To make them busy and still earn even in  their old age, they make bamboo sticks of different sizes and are sold in San Fernando City market. One of their sons who make bamboo baskets provide them the craps that can still be used for bamboo sticks.
For a week, they can make 1,000 sticks sold at Php 35.00. These sticks are made for  barbecue and other uses in the kitchen.
In a week, Lola Fe and husband Rosalino are able to produce  2,000 sticks sold by their son at  Php 70.00.
Inured to Distress, DSWD Brings Bliss
Indigence had become a usual situation for the old couple. Most of the time 'bagoong' is  their main viand. There are also instances when they feast only on solo rice. But they could not ask for better days, being poor had become a normal situation. Since they live in the mountainous part of San Fernando City, simple living is not very hard, sometimes there are free necessities found nearby such as their drinking water from the spring near their house.
According to the couple, when they began receiving their stipend from the Social Pension Program, they felt fortunate and happier because they are now  able to taste meat viands even for at least twice a week and buy half-cavan of rice. But most often they consume vegetables from the City market which is a 30-minute walk and 30-minute tricycle drive. (by: Iryn D. Cubangbang, Regional Information Officer)