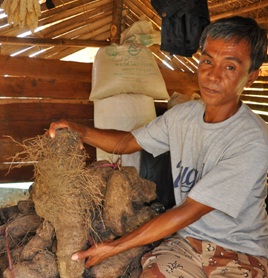 Pugil, Santol, La Union – DSWD's Php 5,000.00 worth of capital assistance given to a poor beneficiary that produced  Php 80,000.00 worth of 'ube' or yam  from 800 tubers,  is another milestone for poverty-reduction programs gaining an edge in the ordinary lives of beneficiaries like Rolando Olario.
A first time yam-producer. An ordinary father who must provide  for the family. He is Rolando Olario, a 48 year-old  Pantawid Pamilya beneficiary who also accessed the Sustainable Livelihood Program of DSWD with the capital assistance provided.
The fertile slopes in Barangay Pugil gave way for the 1-hectare yam plantation. The capital assistance  was used for the purchase of 200 kilos of seedlings or yam tubers. Each yam tuber or seedling  was divided into 4, giving Rolando a total of 800 yam tubers  planted and nurtured for 8 months.
Since the slopes in Brgy. Pugil  is still very fertile,  no fertilizer was added. Only the clearing of the land cost  Rolando  Php 2,000.00 as add-on to production cost.
Latent mind awakens
Rolando is among the  15 members of the Pugil Self Employment Assistance Kaunlaran Association  (SKA) who received  capital assistance after series of trainings and assessment done by Project Development Officers.
Attending the Family Development Sessions  (FDS) of Pantawid Pamilya Program, and mandatory trainings on Sustainable Livelihood Program taught Rolando a lot.
True to his words, "babaen kadagiti program iti DSWD, mariing ti panunot tapnu maamo dagiti naduma duma a tulong tapno sumayaat iti biag" ( DSWD's programs on poverty reduction awaken our minds to access more help that will improve our lives), Rolando mentioned.
As he recalls, Rolando also learned about anti-Violence Against Women and their Children and basic rights of children.
Braving the fangs of  poverty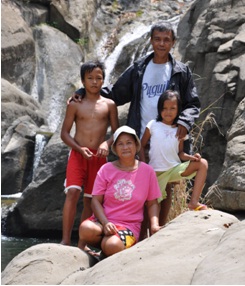 Living in the  mountains without  electricity and without  modern water facility is tough. But with resilience and continuous hard work, everything is possible, Rolando narrated. Reduced poverty can be attained because government's help is already available, Rolando further mentioned.
"Ti DSWD agserbi a guide a kumalay-at iti pagsayaatan babaen iti an-anus ken sakripisyo (DSWD serves as guide in reaching for a better life with hard work and sacrifices), Rolando confidently mentioned.
Among the pride in their community is the waterfalls  hidden  between the mountains. Rolando likened this beauty of nature  with  his faith. Despite the rocks or problems, the refreshing water gushing from the mountains represent  DSWD's programs and services reaching them even in their far flung communities. (by: Iryn D. Cubangbang, Regional Information Officer)