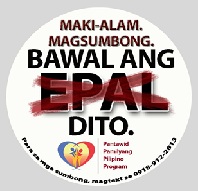 In response to the implementation of DSWDs "Bawal ang Epal Dito" (BAED) Campaign, the Municipality of Pagudpud, Ilocos Norte passed a resolution prohibiting politicians and electoral candidates to attend the conduct of Family Development Sessions (FDS) and other Pantawid Pamilya activities in the course of the campaign period for the 2013 elections.
MAC Resolution No. 02 series of 2013 stipulates that politicians especially candidates for the upcoming 2013 national and local elections, and their spouses, shall be banned and prohibited to speak or use the occasion (FDS) for their campaign sorties.
Accordingly, their support to the campaign shall send a strong message to all politicians, candidates and other concerned that there is a definite and clear position being taken.
This is also Pagudpud's way of contributing their share in nation building along "Daang Matuwid" and Anti- Epal Campaign.
According to Catherine Castillo, Parent Leader from Pagudpud, the Municipality's move is a sign that they are in favor for the protection of the program and the beneficiaries in the area.
Meanwhile, DSWD – FO1 Director Marcelo Nicomedes J. Castillo encourages all beneficiaries to report any observed "epal" activities and never believe on hearsays and threats instead all must maintain integrity this coming election.
"Bawal ang Epal Dito" (BAED) Campaign is DSWDs advocacy campaign to insulate Pantawid Pamilya Program and its beneficiaries from being used by certain politicians or groups this upcoming elections by empowering beneficiaries and highlighting the fact that no one has the authority to de-list a beneficiary but DSWD. (by: Allan O. Lulu / Information Officer II, Pantawid Pamilya)