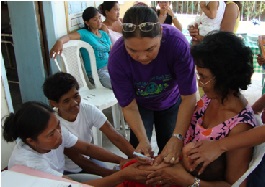 The Pantawid Pamilyang Pilipino Program is gaining results in reaching its desired long-term outcomes of poverty reduction, said the National Economic and Development Authority (NEDA).
In the region, currently there are a total of 159,097compliant 6 -14 years old enrolled in primary and secondary school; 15,309 compliant 3-5 years old enrolled in pre-school and; 56,441 household beneficiaries who access health services.
Based on the Socioeconomic Report (SER) 2010 – 2012, NEDA stated that Pantawid Pamilya has made remarkable progress in terms of achieving the development outcomes for its beneficiaries in the short term.
According to Socioeconomic Planning Secretary Arsenio Balisacan, as a result of a 2011 impact evaluation, program beneficiaries are more likely to perform better particularly in health and education compared to non – beneficiaries.
At the national level, the report shows that as compared to non-program beneficiaries, Pantawid Pamilya households had higher insurance coverage (10%); schoolchildren had higher enrolment rates for 3-5 years for Day Care (10%) and 6 – 11 years old for basic education (5%); had higher school attendance for 6 – 11 years old (4%) and 12 -14 years old (5%).
Moreover, beneficiaries' spending patterns shifted as it focused more on education (36%) and basic medical costs (33%) compared to non -beneficiaries.
The report supports the recent findings of the World Bank that Pantawid Pamilya is on the right track to achieving its objectives.
Finally, Sec Balisacan said, "The Pantawid Pamilyang Pilipino Program is really a long – term investment and the immediate progress we have initially seems affirms the program's success in the coming years."
Region  1 presently has 181,439 household beneficiaries being catered by the program experiencing same notable progress.
by: Allan O. Lulu / Information Officer II, Pantawid Pamilya