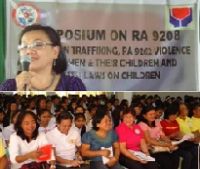 To maximize resources of the DSWD and the Local Government Units  in helping victims of human trafficking,  series of symposia attended by at least 575 individuals from various  sectors were  held  separately in San Carlos City, Dagupan City and  Calasiao, Pangasinan by the DSWD FO1- Social  Technology Unit (STU).
As revealed by STU Head Virginia P. Sesay,  Region 1 continues to receive increasing numbers of trafficked persons from other nearby regions particularly from the Visayas and Mindanao  regions.
In 2012, there were 136 trafficking-survivors who were served by several Local Government Units (LGU), DSWD community-based services section, and centers and institutions.
On the same year, the Province of Ilocos Sur reported 28 alleged victims who were proven to be victims of human trafficking after series of assessment done by FO1 Social Worker Tess Emock and by the Ilocos Sur Provincial Social Welfare Office.
As of March 2013, there were already fourteen (14) symposia on RA 9208 also known as "Anti-Human Trafficking in Persons"  conducted in LGUs with incidence of trafficking.  To gain better understanding on other cases of Women in Especially Difficult Circumstances of which victims of human trafficking are included, Social Welfare and  Development (SWD) related laws like RA 9262 (Anti-Violence Against Women and their Children Act) , RA 7610 (Special Protection of Child Against Child Abuse, Exploitation and Discrimination Act) , RA 9775 (Anti-Child Pornography Act), and the Child Labor Law were included in the topics discussed.
More importantly, these series of symposia will lead to a more tangible and responsive services for the victims which will be carried out by the Local Councils Against Trafficking (LCAT)  established in every municipality.
The LCAT is a local structure that will look into the welfare of Trafficking in Persons (TIPs)  and provide protection from trafficking. "When these local structures are responsive to trafficking issues and problems, incidence of trafficking index will decrease, prosecution of perpetrators will be facilitated, and human sufferings will be mitigated if not eliminated in Region 1," Ms. Sesay exhorted.
Moreover, Ms. Jean Sesay mentioned that the Recovery and Reintegration Program for Trafficked Persons (RRPTP) serves as eye opener to all concerned  development workers that human trafficking is real, widespread, inhumane, and one of the worst forms of abuse and crime against humanity.
In Dagupan City, the Symposium was graced by City Mayor Benjamin S. Lim who assured of his support to the program for trafficked persons. Participants from different walks of life including several Pantawid Pamilya Parent Leaders and  beneficiaries attended this event.  Atty. Uminga of DOJ discussed RA 9208 (Anti-Human Trafficking in Persons) while the trafficking related laws were discussed by DSWD OIC Asst. Regl. Director for Administration Nora de la Paz. (by Iryn D. Cubangbang, IO II with report from STU Head Virginia P. Sesay).