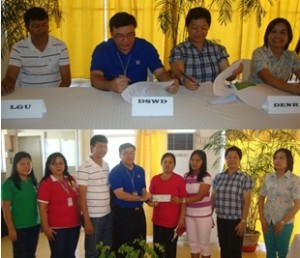 The Department of Social Welfare and Development Field Office 1 (DSWD – FO1) and the Department of Environment and Natural Resources Region 1(DENR-RO1) recently bind its partnership, through a Memorandum of Agreement (MOA), for the implementation of the  "Sustainable Livelihood and Environment for DSWD Disadvantaged Clients" and award capital assistance of Php 350,000 to two SEA-K Associations (SKA).
A program relative to the implementation of DENR's National Greening Program (NGP) and DSWDs Sustainable Livelihood Program (SLP) for Pantawid Pamilya beneficiaries whose livelihood were adversely affected by government enforced log ban.
The program aims to implement an area-based approach of preserving the environment and at the same time providing livelihood for the poor and marginalized through the convergence strategy of the national government.
Identified groups or associations were given capital assistance by DSWD to purchase various seedlings to plant while DENR provided lots and will eventually buy those plants after three months.
Meanwhile in Pangasinan, the Villacorta Green Thumb SKA of Mabini and the Mapita Seedlings Planters SKA of Aguilar were awarded with Php 200,000 and Php 150,000 respectively.
DSWD-FO1 Regional Director Marcelo Nicomedes J. Castillo encouraged beneficiaries in doing their share for the program's success in response to government agencies' efforts of converging its resources for their benefits. Likewise, he challenged beneficiaries to strive and be one with the government in pursuing for development.
In response, SKA President Maritess Ramin thanked the government for such opportunity and promised to do their best in order to achieve the program's purpose. (by: Allan O. Lulu / Information Officer II, Pantawid Pamilya)