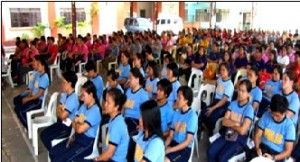 New Regional Advocates for Gender Equality (RAGE) President  Melecio C. Ubilas of  DSWD   representing Director Marcelo Nicomedes J. Castillo emphasized  the need to converge  government efforts through  3Cs (communicate, coordinate, and collaborate) as vital components to  realize the goals of  Gender Equality in Region 1.
As exhorted,  'to communicate'  is giving information/feedback anytime anywhere to concerned individuals who could assist and provide necessary interventions on cases of  Violence Against Women and their Children (VAWC); ' to coordinate'  with partners to strengthen responses to any discrimination against women; and for all agencies to 'collaborate' to ensure gender equality at all times.
This was among the significant messages of the 2013 Women's Month Celebration of the RAGE  that included a Fun Walk, Thanksgiving Mass, Oath Taking of New RAGE Officers, and Dialogue on Gender and Development  held at COA Auditorium, San Fernando City, La Union, recently.
The new RAGE Officers representing their agencies are as follows: President – Melecio Ubilas (DSWD); Vice President – Marichu Cuizon (CSC); Treasurer – Irenea Ubungen (NSCB); Board of Directors – Ines Meneses (NEDA), Dr. Edwin Ferrer (DepEd), Atty Rommel Daguimol (CHR). The oath-taking was facilitated by Atty. Raquel Dulay  Estigoy Andres, the Clerk of Court VI of Regional Trial Court, City of San Fernando, La Union.
Further, the DSWD's  Men Opposed to Violence Against Women Everywhere (MOVE) which is a group of men with integrity advocating for the  rights of women was popularized among the participating agencies. Its visions and goals of expanding more among government offices and even up to the baragay level  was advocated by its  President,  Benjamin F. Baldo. (by: Iryn D. Cubangbang, Regional Information Officer)