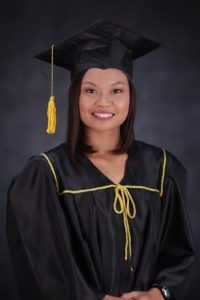 Choosing the road less taken. This is how Amabel H. Achuela of Paoay, Ilocos Norte fight for her dreams and aspirations coupled with perseverance, hard work, patience, and trust in God.
Amabel, 23, is the second among the four daughters of Conrado G. Achuela, 67, and the late Hermela H. Achuela. She is a former 4Ps beneficiary who graduated Magna Cum Laude with the degree Bachelor of Science in Agriculture major in Soil Science at Mariano Marcos State University (MMSU) – College of Agriculture, Food and Sustainable Development, City of Batac, Ilocos Norte. Currently, she is rolling up her sleeves to pass the Licensure Examination for Agriculturists.
Conrado was left with the lone responsibility of raising their four children who were then aged seven (Hazel), four (Amabel), three (Fenelyn), and two months old (Glenda). His wife died when he was 49 years old. Amabel's respect and appreciation for her father are so deep because she witnessed how he hurdled their daily life on his own. Life without a mother at an early age is very challenging but the tender loving care of her father somewhat made it less difficult. With this, Conrado was hailed as 3rd Runner-Up in the National Search for Modelong Ama ng Pantawid Pamilya in 2017.
Having witnessed how challenging life was, especially without a mother coupled with financial constraints, Amabel had to patiently wait until harvesting time of crops or farm animals raised to settle school fees. She never thought that her long waiting prepares her for a thousand-fold blessings.
Amabel was inspired by the achievements and excellence of her eldest sister, Hazel, who is an Instructor at MMSU with a permanent position since August 2022. Hazel finished Master of Science in Animal Science Major in Animal Breeding and Minor in Genetics this 2022 at the University of the Philippines Los Baños. Amabel decided to follow Hazel's footsteps, thus, enrolled in the same course and envisioned to be like her sister someday.
According to her, "I was able to achieve this milestone of my life with a lot of helping hands and one of which is that of the DSWD through 4Ps. My whole family and I will forever be grateful to the support given by the program."
Meanwhile, Amabel's younger sisters Fenelyn and Glenda also followed the footsteps of Hazel in the field of Agriculture. Fenelyn is a fourth year Bachelor of Science in Agribusiness student, while Glenda is on her first year taking up Bachelor of Science in Agriculture.
Achuela Family was hailed as the National Winner in the 2015 Search for Huwarang Pantawid Pamilya. For Amabel, to be recognized nationwide is one of the most unforgettable moments for them as a household beneficiary. Not even in her wildest dream that her family will become a model to other 4Ps household beneficiaries.
Amabel's family benefited significantly from being a 4Ps beneficiary in many ways, including moral and monetary support. The cash grants they received might not be enough to sustain their daily needs but it helped filling in the costs they incurred for food, school fees, transportation expenses, and healthcare.
 During the 4Ps Graduation Ceremony in June 2022, after 10 years in the program, Conrado led and encouraged his fellow graduating household beneficiaries saying, "Babaen ti panagkaykaysa tayo a sangapada, dawatek kuma a ti panagbalbaliw tayo a nasayaat ket agtultuloy (With our unity, I wish that we continue changing for the better)." (by: Sherwin L. Arce / Municipal Link and Jaesem Ryan A. Gaces / Information Officer)