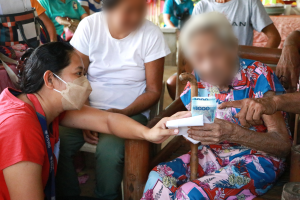 From the rich mountains and plains of San Fermin, Caba, La Union, there lives a 100 – year old Rufina Tangalin. Lola Rufina was recently visited by the Department of Social Welfare and Development Field Office 1 (DSWD FO 1) and Local Government Unit (LGU) of Caba, La Union led by Municipal Mayor Donna Rillera Crispino, at their house to hand over the cash incentive worth Php100,000.00 on 21 September 2022.
She shared, "Saanak nagsaksakit kaasi ni Apo isuna nadanun ko daytoy a tawen. Tatta nak laeng nga agtulengen, saan ko unay maawatan dagiti mangmangeg ko ken saanak unay makabigbig isu a kaasian dak (I do not get sick by God's grace so I reached this age. Now. I can no longer hear and cannot visually recognize well, so have mercy on me)," Lola Rufina expressed.
In her early years, she was not able to finish her studies, so she worked as a house girl in Intramuros, Manila. This is also where she met Mariano, her husband. They were blessed with six children. After some time, they returned to La Union to live a simple life. They became farmers to provide for their families.
Lola Rufina expressed her deepest gratitude by saying, "Pagpasensyaan dakun ta saanak unay a makangngeg. Agyamanak ta bimmisita kayo ditoy tapno maikkandak ti regalo (Please bear with me if I cannot hear you well. I am grateful that you visited me to give gift)." She also stated that she will share half of the cash incentive to her family members and keep the other half for emergency purposes.
Municipal Mayor Crispino left a reminder and kind wishes to the family of Lola Rufina stating, "Ammuk a saan yo a pag-aapan dayta kwarta nga inted ti DSWD Field Office 1 ta makitak a nasayaat ni Lola Rufina kadakayo. Awan ti sabali a makatulong ti maysa tao ngem nu di ketdi ti pamilya na met laeng. Ni Apo Dios iti mampapigsa kenkuana (I know that the cash incentive given by DSWD Field Office 1 will not cause conflict because I see that Lola Rufina is doing well under your care. No one can help a person more than his/her family. May the Lord give her strength)." The Tangalin Family extended their gratitude to the DSWD Field Office 1 and LGU Caba, La Union for personally visiting and delivering the cash incentive to Lola Rufina.
Lola Rufina qualifies as one of the Centenarians among the Filipinos whether in the Philippines or abroad who have been given recognition for their outstanding contribution to society in the distribution of incentives from the National and Local Government, as provided under Republic Act No. 10868 or the Centenarians Act. (by: Princess R. Dumpit, Information Officer I, Social Pension Program Management Office/ Social Marketing Unit)