The coronavirus disease 2019 pandemic greatly affected our Kababayans, specifically those living in the metro.
During these trying times, they have felt the impact of change from normal and adjusted to the new normal. Realizing that to survive, the only way is to start anew in their hometowns.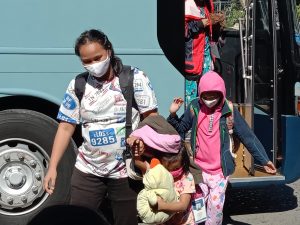 Loss of job. Unstable income. Unaffordable price of commodities and home rentals. Health concerns. House displacement problem. Family issues. These are just some of the reasons why they decided to seek better options to live.
Meet 36-year-old beneficiary Dianne Carol C. Elumba, who perceives Balik Probinsya Bagong Pag-asa or BP2 Program as an opportunity for her family.
According to Elumba, she knew about the program through a big tarpaulin advertisement along Quezon Avenue in Quezon City. At first, she thought that it was for those locally stranded individuals (LSIs) but was clarified through an online inquiry that it was also for families who wanted to relocate back to their provinces.
"I filled-up the online application form in May 2021. A quick reply from the Department of Social Welfare and Development (DSWD) BP2 Program representative eliminated my doubts on relocating because of the benefits stated under the Transitory Family Support Package," she said.
Elumba articulated that they are a family of seven and needed to save for the transportation cost, but due to their limited and unstable income, plus the cost of living in Manila, they did not have enough money to cover the foreseen expenses.
"I was only expecting the financial assistance to pay for the transportation cost, but it was more than that. We were also provided with enough funds to purchase food, and non-food essentials for my kids' education and home improvement. I am lucky to be a BP2 beneficiary," she uttered.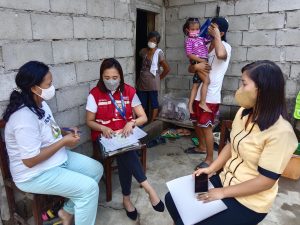 She believed in the importance of her younger children growing up in an environment that is conducive to the development of their social skills.
Moreover, her positive outlook and resilience during the pandemic manifested that their family can easily adjust in the province.
Elumba with her family arrived in December 2021 and is now residing in Sudipen, La Union.
The family will also be receiving a livelihood settlement grant under the DSWD FO 1's Sustainable Livelihood Program amounting to Php 50,000.00 to fund their proposed cake and pastry business.
"I am hopeful to start our new life here in my hometown and very grateful to DSWD's BP2 Program for providing us with the opportunity to continue making better decisions for the welfare of our family," she expressed.
BP2 Program is DSWD's contribution to the government's overall goal to provide hope for a better future to Filipinos through inclusive and balanced urban and rural development across the country. (By: Anne Hazel Fajardo-Flores, Social Marketing Officer III, KALAHI-CIDSS RPMO/ Social Marketing Unit)