The Province of Ilocos Sur is one of the severely afflicted areas during the onslaught of tropical storm Maring in the Ilocos region.
After receiving partial status reports, the Department of Social Welfare and Development Field Office 1 (DSWD FO 1) led by Regional Director Marie Angela S. Gopalan visited the province to personally monitor and assess the additional needs of the affected families and other damages.
"Aside from distributing 7,500 family food packs (FFPs) to augment the relief operations of the local government units, we also went to the barangays and stopped at the houses of the affected families to further check on their actual situation," RD Gopalan said.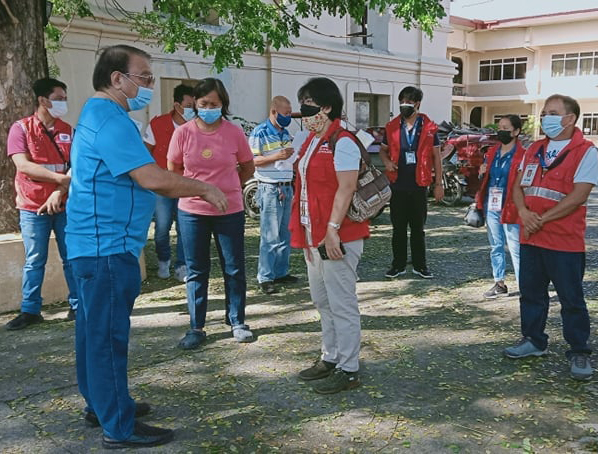 On a particular visit in Sta. Cruz, she met and discussed with Vice-Mayor Atty. Vergilio Valle who reported that currently they have enough food supply for their constituents, but is seeking augmentation for additional non-food items such as sleeping, hygiene and kitchen kits as assistance.
The same were also requested by the other LGUs RD Gopalan visited which includes clothing, undergarments, rubber boots, facemasks and some medication.
In the same activity held in Sta. Lucia, Mayor Joseph Simon Valdez said, "We are very grateful to DSWD FO1 for personally checking on our situation, asking what else has to be provided, and also delivering the help from the national government to our constituents. This means so much to us."
Moreover, Maria Verlie Jimeno, a resident of Barangay Bao-as, Sta. Lucia said, "I am very happy because we are safe and have survived the typhoon. But we also need to fix and clean our house, and if there is any help we could get, we will accept it whole-heartedly."
Jimeno is only one of the residents whose house and other personal belongings were completely damaged by TS Maring.
RD Gopalan also went to see and monitored the situation in Sta. Maria town and Candon City.
Meanwhile, the towns of Tagudin, Sta. Cruz, Sta. Lucia, Narvacan, and Candon City already received 500 FFPs each, while 1,000 FFPs were given to Santa and Vigan City while the town of Sta. Maria, which was submerged in water, received 3,000 FFPs.
The distribution of the goods was made possible through the efforts of partner government agencies under the Regional Disaster Risk Reduction and Management Council Region 1 (RDRRMC 1) such as Office of Civil Defense, Philippine National Police, Philippine Coast Guard, Philippine Naval Forces Northern Luzon Command, Department of Public Works and Highways, and the Provincial Government of Ilocos Sur.
RD Gopalan also expressed, "Aside from our partners, I would also like to commend the hard work of our DSWD personnel in the provinces who were on the look-out and spearheaded the repacking of FFPs and relief operations, despite outside of their main work functions. Their commitment to ensure that the food and non-food items are readily available, and their prompt services to our beneficiaries is laudable."
Ilocos Sur province has a total of 70,612 reported affected families or 255,182 persons to date. In the Ilocos region, DSWD recorded 6,054 and 166 partially and totally damaged houses, respectively, as of Oct. 17. (By: Anne Hazel Fajardo-Flores, Social Marketing Officer III, KALAHI-CIDSS/ Social Marketing Unit)