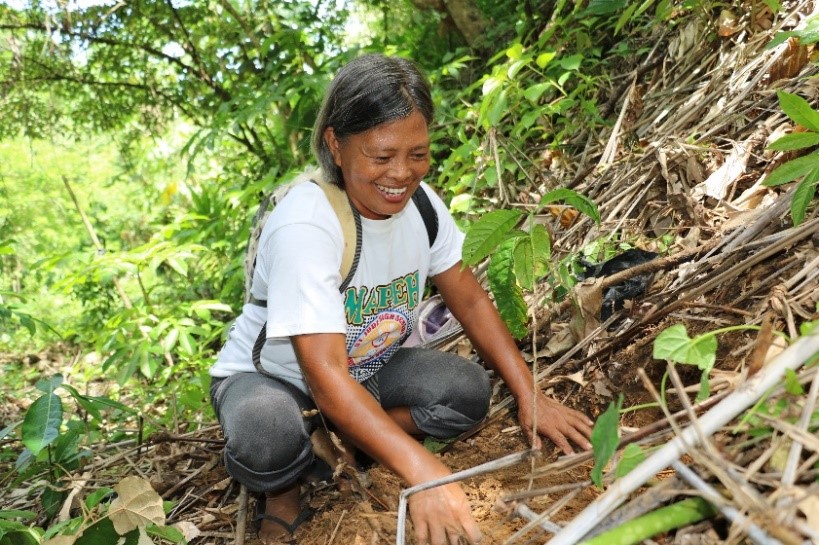 Ilocos Norte is vulnerable to almost all types of natural hazards because of its geographical location. Yearly, the country experiences an average of 20 tropical cyclones, eight of which hit the Province. Alarmed by the effects of the tropical cyclones and the dire forecast of drought, soil erosion, month-long flooding, and siltation, the Provincial Government assessed its environmental situation and forest cover through a geo-hazard mapping which identified the municipalities of Solsona and Dingras as particularly high-risk areas where soil erosion, flooding, and drought are prevalent, especially in Barangays Puttao, Sta. Ana, and Nagpatpatan in Solsona, and Barangays Francisco, San Marcelino, and Barong in Dingras. The environmental assessment further showed that the majority of the forest cover had been denuded due to indiscriminate cutting of trees for human consumption and commercial purposes tantamount to the destruction of Ilocos Norte's carbon sinks: forests, coastal habitats, and vegetation.
The Provincial Government then set a goal to develop more adaptable communities and lessen flood-prone areas to become more resilient against unpredictable and natural force by tapping the Ilocos Norte Environment and Natural Resources Office (INENRO) and Provincial Social Welfare and Development Office (PSWDO) to create a wide range of project that aims to improve the environment with emphasis on sustainability. The birth of Green Wall of Ilocos Norte then came into reality, a well-planned project that establishes greeneries from the ridge to reef by planting a variety of tree species and mangroves that will enrich road networks and the environment. The Green Wall is also eyed to be integrated with the localized greening program in all cities/municipalities in Ilocos Norte to safeguard watershed areas to sustain agricultural productivity.
With the limited fund of the Green Wall, the Provincial Government tapped the Department of Social Welfare and Development Field Office 1 (DSWD FO 1) to support and sustain the project through Cash-For-Work (CFW) under the Climate Change Adaptation and Mitigation (CCAM) project. The CFW is a 10-day undertaking wherein recipients received 75% of the prevailing daily wage rate set by the National Wages and Productivity Commission. In the case of Region 1, the minimum regional wage rate is PhP280.00, thus, the individuals who participated in the temporary work such as rehabilitation of denuded watershed areas, establishment of green walls, and establishment and maintenance of mangrove plantation site received PhP210.00 daily. "Malaking tulong ang natanggap namin mula sa Cash-For-Work kasi naibili namin ng aming mga pangangailangan sa bahay. Higit pa roon, nakatulong kami sa aming barangay para mapangalagaan ito (The assistance we received from Cash-For-Work is a big help to augment in purchasing our household needs. More than that, we were able to help protect our barangay)," said Everlina Agrade, a member of Saguigui Tribe Council Incorporation, an Indigenous Peoples group at Barangay Saguigui, Pagudpud, Ilocos Norte. In addition, Emilio Rabago, the chieftain of the aforementioned tribe, pledged to plant more fruit-bearing trees to fight climate change and to produce good harvests that will yield additional income. Despite the knowledge that the CFW is a short-term income-generating activity, the chief aspired that the CFW be a continuing initiative to provide decent income to the residents and sustain environmental protection beneficial to the next generation. Emilio thanked the DSWD for providing opportunities to both acquire income and fight the disturbing effects of climate change.
With the success of protecting the forest, the Provincial Government launched the Ilocos Norte Blue Wall, the shoreline counterpart to the Province's Green Wall which focuses on planting mangroves to protect the coastlines and the inhabitants. In Gabu, Laoag City, the coastal barangay has successfully planted and grown more than 20 hectares of mangroves that will help ensure greater food security, improve protection against natural disasters, increase household incomes for the local communities, and sustain climate stabilization.
According to Estrella C. Sacro, Provincial Environment and Natural Resources Officer of Ilocos Norte, "We need to be always ready and resilient whenever disaster will occur. We converge and harmonize our resources with various national government agencies to ensure project sustainability. We thank DSWD for augmenting funds for the Cash-For-Work project that helped in the fast project implementation," she shared.
DSWD Field Office 1 augmented PhP20Million for Ilocos Norte's Climate Change Adaptation and Mitigation – CFW project. # By: Darwin T. Chan, Social Marketing Unit with reports from INERO.