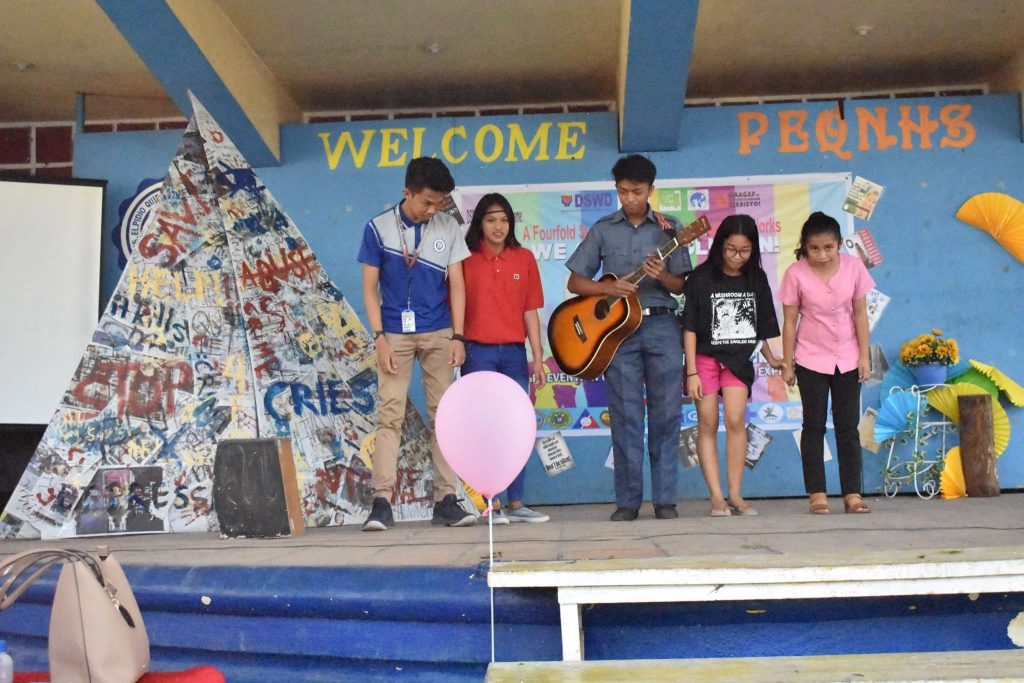 In support to this year's National Awareness Week for the Prevention of Child Sexual Abuse and Exploitation, the DSWD Field Office 1 Home for Girls (HFG) staged a child protection advocacy activity with the theme "A Fourfold Solution to Child Protection: Information Technology (IT) Works" held at President Elpidio Quirino National High School (PEQNHS), Agoo, La Union.
The activity endeavors to raise awareness on the current issues and challenges on child protection and to highlight the role of IT, including social media, in addressing child violence and exploitation. This initiative further underscored the significance of child participation as an effective approach to let the children take the lead to protect their own rights.
Assisted by their mentors and coaches, 42 student leaders from six (6) public and private high schools in Agoo, La Union competed in the short film making, jingle making, and impromptu speech.
The competition commenced with the viewing of three (3) short film entries from PEQNHS, Don Eufemio F. Eriguel Memorial National High School (DEFEMNHS), and Saint Mary's Academy (SMA). The DEFEMNHS bagged the special award on the Most Socially Relevant Film while SMA was recognized as the Youth Choice Awardee. Entitled "Tsokalate", the PEQNHS' entry wowed the audience with its impressive cinematography and storyline and was hailed as the 2019 Champion. The film narrated the story of a child who suffered from repeated sexual abuse by her father and her journey towards healing and empowerment .
Moreover, student leaders from DEFEMNHS, PEQNHS, SMA, and Agoo Kiddie Special School (AKSS) competed in the original jingle making competition. Composed of five (5) members for each group, the participants showcased their songwriting, singing, and dancing skills depicting the advocacy on child sexual abuse prevention through the aid of IT. AKSS bagged the 2nd place with its jingle entitled "AEGIS" while SMA was hailed as the winner with its original jingle entry pegged as "Bata at Pag-ibig."
The highly anticipated impromptu speech competition was participated in by five (5) schools namely Agoo Academy, DEFEMNHS, PEQNHS, SMA, and Polytechnic College of La Union. Given a five-minute speech time, the participants were asked the question, "If you are one of the candidates for a senatorial post, how will you maximize child participation as an effective and practical strategy to promote child protection which will highlight your advocacy?" With the confidence and forthright answer of the contestant from PEQNHS, the participant bagged the 2nd place. On the other hand, imparting the advocacy on awareness and promotion of programs on children empowerment, the student from SMA was hailed as the frontrunner.
HFG Center Head Noemi D. Escalona thanked the different schools in the promotion of child sexual abuse awareness. Meanwhile, Head Teacher III and PEQNHS OIC Gaspar Calletong extended his gratitude to DSWD for its initiative to eliminate child sexual abuse and further encouraged the Department to strengthen its advocacy on child protection to larger audience, particularly to schools. #By: Roulyn B. Bangud, Home for Girls